The Toolbar

The Toolbar is the main control panel of the Instapage Builder & is located at the very top of the page. From here you'll access your Settings, Undo/Redo, Save, Preview, Publish, Variations, & More.
Back to Dashboard 

Click on this icon to go back to the Main Dashboard. 
A/B Split Testing

If you're unfamiliar with A/B testing this feature will allow you to create new "versions" of your landing page to see how different changes affect your conversions. Each user will only see one version.
Click on this icon above to access the variation manager shown below. Delete, Edit, and Pause variations that you've already created or create new ones. 

Desktop / Mobile Selection 

Page Settings  

Click on this to access "The Option Drop" shown below. These will give you access to the majority of tools you'll need to build an amazing landing page.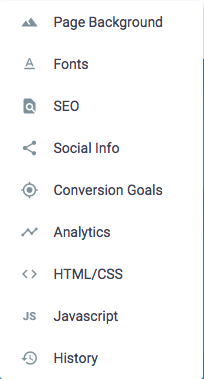 Add Page Elements 
You can add elements from the second row of the toolbar. These will give you access to the majority of tools you'll need to build an amazing landing page. 

Undo Changes 

This one is self-explanatory.  Using this option you can undo or redo your last action if you change your mind. 
Saving Your Page

Click on this button to save any changes you just made to your landing page. We recommend saving your page as frequently as possible and especially before leaving.  If your page is successfully saving you should see this message at the bottom of your screen: 

Preview Your Page 

Throughout the design process, you'll want to preview your landing page to get an idea of exactly how it will appear to users upon publishing. In preview mode, the editing options will not be available. 
Publish Your Page

Once you have completed your Landing Page design, you're ready to publish it to the world. You can display your page on a sub-domain we provide (page.pagedemo.co) or can setup a domain you already own. You can edit pages at any time. You can read more about publishing options here.
Update Your Page With the Latest Changes

After you publish your Landing Page, you can still edit and update it at any time. After you edit your page, in the top right corner of your page, you will see the Update button displayed above. Click on it to publish the changes you just made. The new version of the page will be live in a few seconds. If you want to check how the page looks, make sure you delete the cache from your browser first or use Incognito/Private browsing. This will help make sure you are displayed the most recent version, and not a cached copy of the page.
Get Help 

If you need help at any time throughout using the Instapage builder you can click on this Question Mark Icon to gain access to quick answers or send an email to our support team. You should be presented with this window: