Ebooks are one of the most popular types of digital assets marketers use to generate leads. There are multiple ways to set this up, the most popular are:
For the first option, you can add the link to a button, text or image. The second and third options can be triggered only by form submissions.
If you would like to add the file directly to our servers, follow the simple steps below to upload your file:
Uploading a file to Instapage servers
1. Click the Edit button on your form.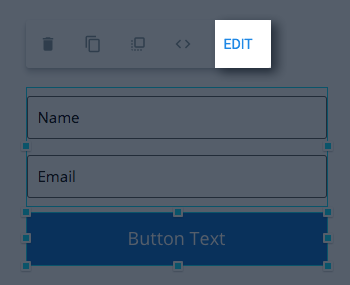 2. From the top menu select Submission.

3. Toggle the first option to Download and use the File Upload button to select a file from your computer.

Note that the file size limit for ebook downloads and other digital assets is 20MB. If you want to upload a larger file, you can create a download link with any of the above-mentioned services and paste it in the File URL field from the same menu.
Don't forget to add a thank you message while you're here. The message will appear after your visitors click on the Submit button of your form. The file download will be triggered as well.
The download feature can't be used together with the Redirect feature, they only work separately.