Driving traffic to your page is not enough. After using PPC, social media, email marketing or even links underneath an email signature; you want to turn your visitors into potential customers.
This is why it's always a good idea to use incentives in order to generate more leads. Offering ebooks, whitepapers, tip lists, reports or any other digital download will help guarantee your leads are interested in your service. These types of assets also help fill your sales pipeline so you can nurture them into paying customers later.
Ebooks are one of the most popular types of digital assets marketers use to generate leads. From Adobe Photoshop, InDesign, iBooks Author, or even creating a PDF file from Google Docs or Microsoft Word; there are many software programs that marketers can use to create an ebook. An easy way to do this is to create a digital download either by uploading a file to the Instapage servers or create a download link.
If you choose to create a download link, there are many options available to you, some of which include:
… or a third party autoresponder service that will send an email to your leads after they complete the form. You can use any of our direct integrations such as:
Once you have your ebook download and want to include it on your landing page, make sure you have added a form to the page. Once you've added a form, follow the steps below to upload your ebook.
Uploading a file to Instapage servers
1. Click the blue "Edit" on your form: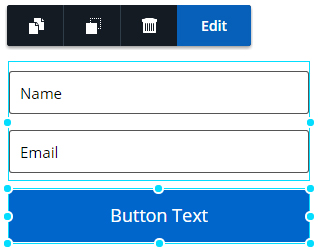 2. From the top menu select "Redirect":
3. Click "Upload file" and select the file from your computer:

Finally, click the green "Done" button in the top right corner and that's it! (Note that the file size limit for ebook downloads and other digital assets is 20MB).
If you want to upload a larger file, you can create a download link with any of the above mentioned services and paste it in the "File URL" field from the same menu:

Don't forget to add a thank you message or even a thank you page to complete your visitors' journey. Remember, the more engaged your prospect is with your brand, the more likely they will become a customer and/or upgrade to a higher level of service with you.
 *Note*: The download feature can't be used together with the Redirect feature, they only work separately.