Table of contents:
3. Hibernation
4. Changing the subscription type between annual and monthly billing
Creating an account
To get started with Instapage, you will create an account that starts off as a free trial of 14 days. In order to sign up for an Instapage account, follow the steps below:
1. Go to https://app.instapage.com/auth/signup
2. Enter details about you and your company.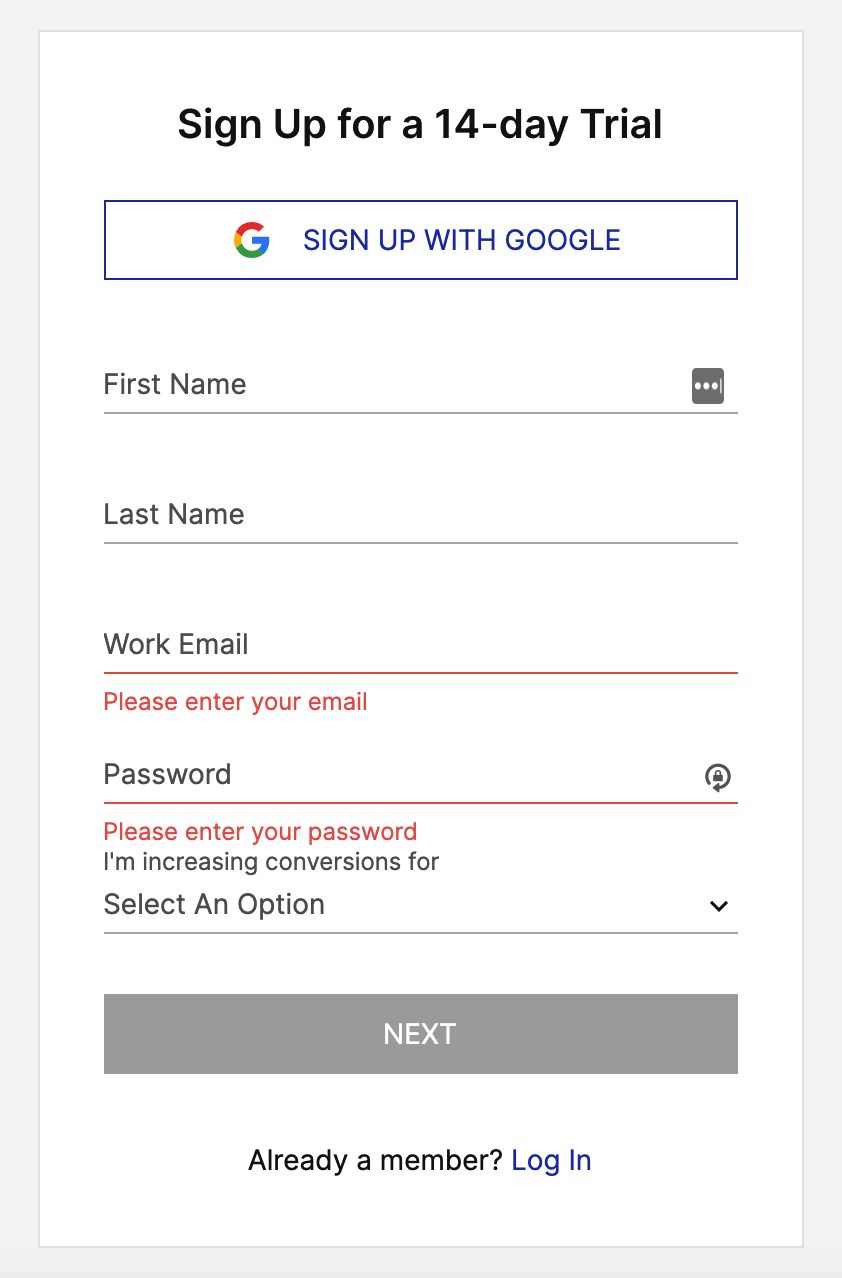 3. Read and agree to our GDPR compliance, Terms of Service, and Privacy Policy.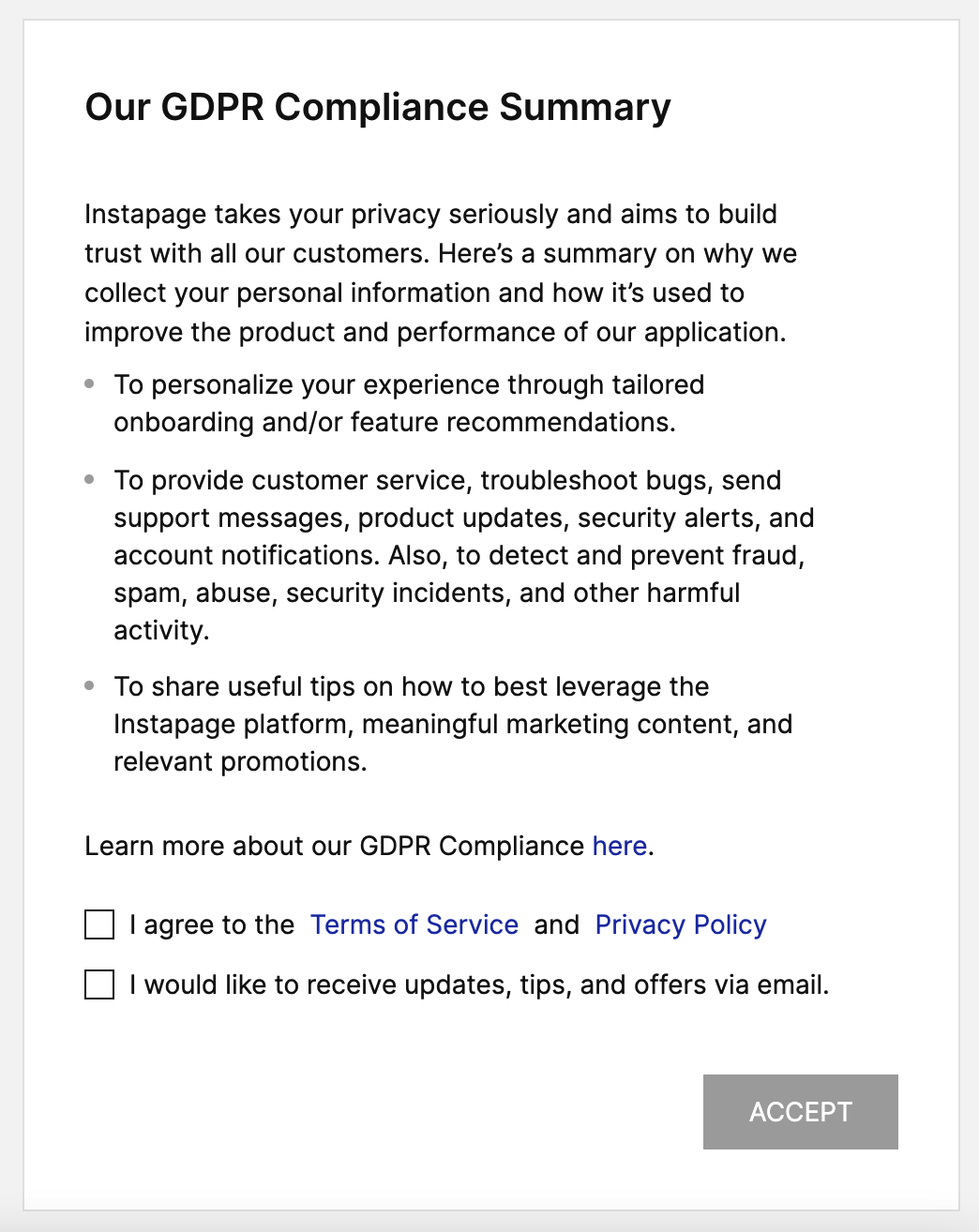 4. Add your credit card details and select if you want to opt for the annual Build plan or the monthly Build plan.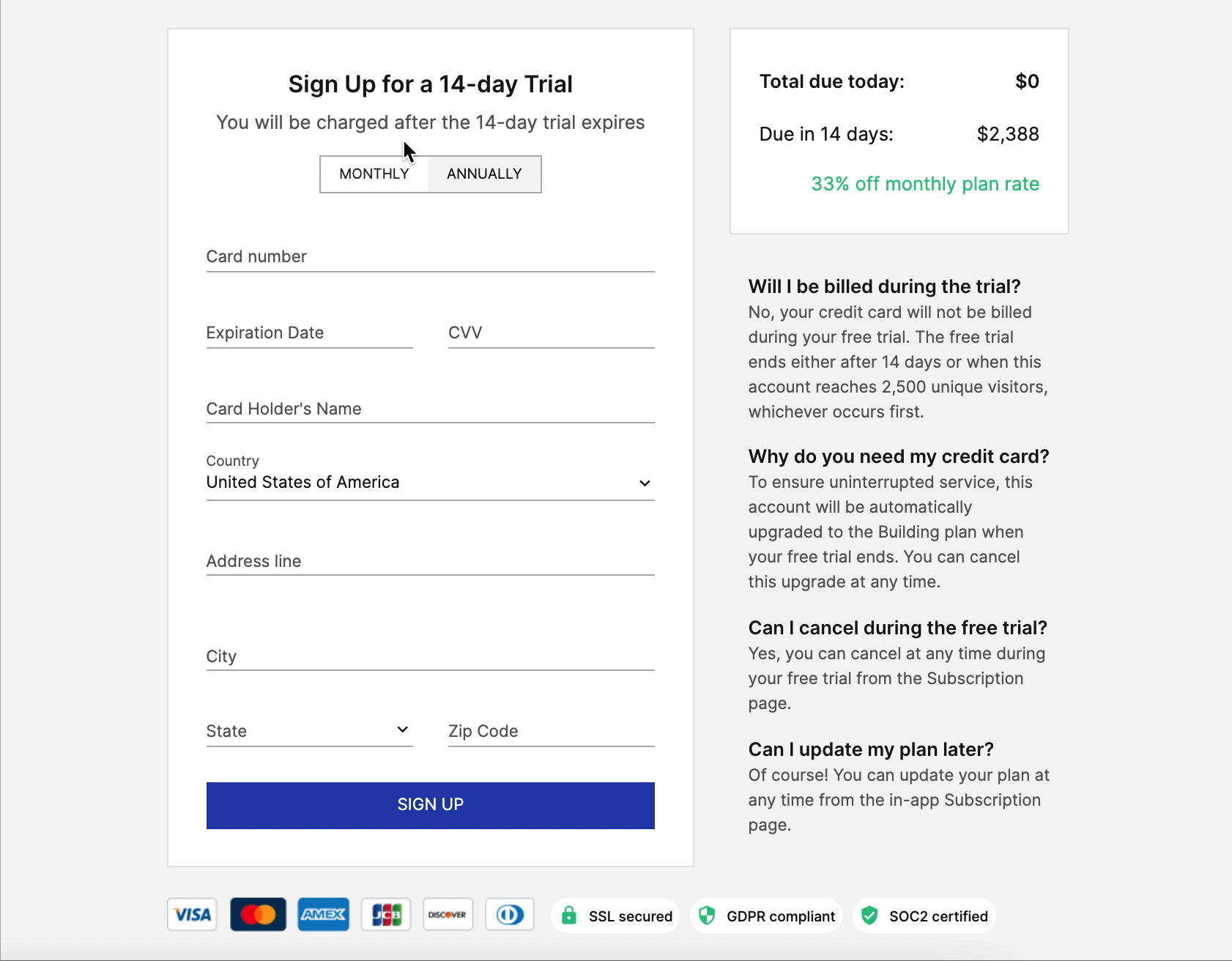 NOTE: You will not be billed immediately. You have 14 days to try out the platform and cancel anytime before the end date from within your account. You will only be billed for the preselected plan if 14 days pass or if you reach the trial limit of 2500 monthly visitors. (Don't worry, the Building plan has a limit of 30,000 visitors)
If you are close to reaching the 2500 visitors limit you will receive a message in your dashboard along with an email.

The cancelation procedure
During the 14 days trial, you can cancel the account directly from your account, if you decide that our product is not suitable for your business. This can be done from the Admin > Subscription section of your account, where you will find the Cancel account button, as shown here: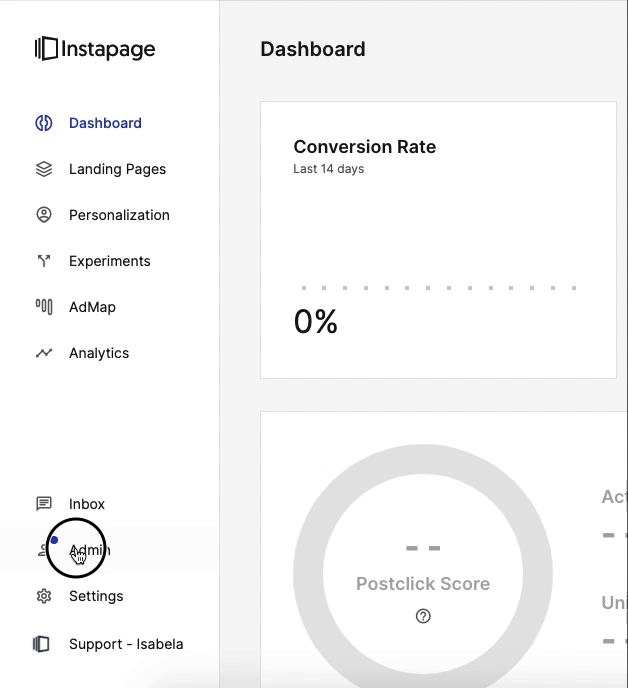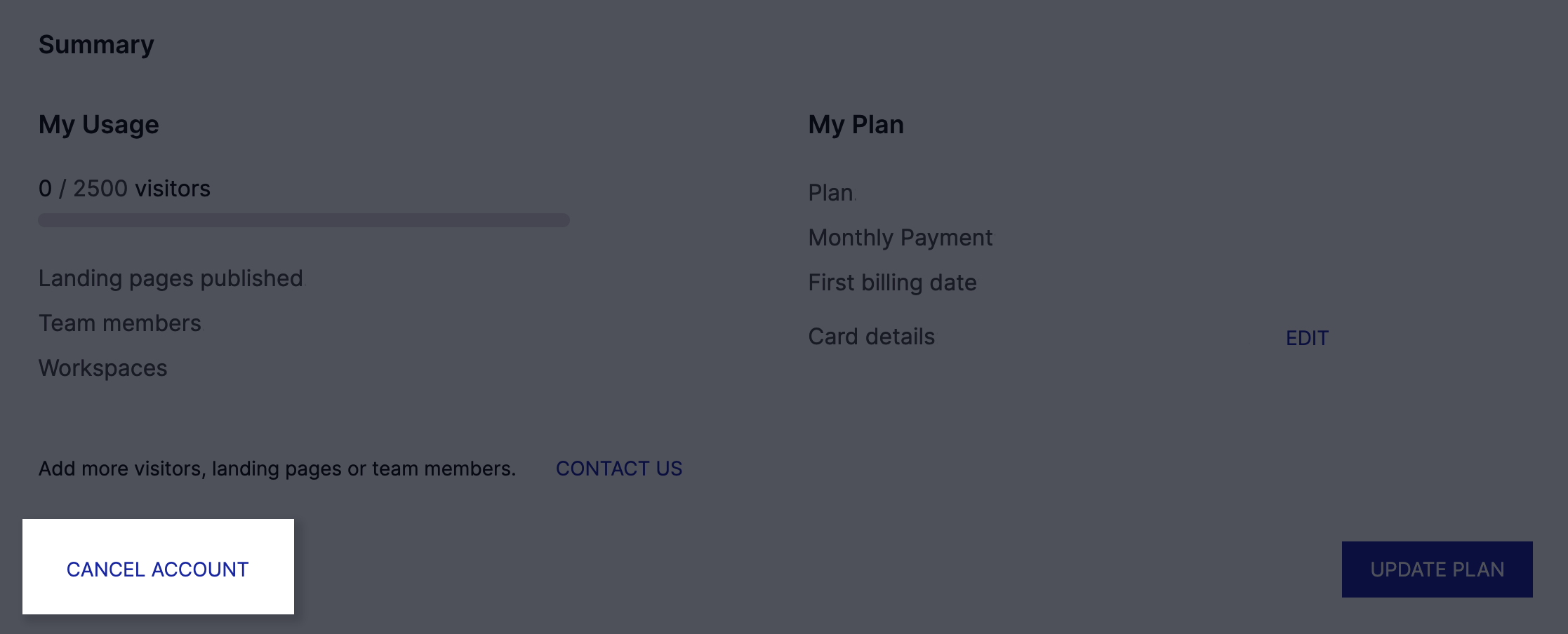 Important note: Once the account is upgraded to a paid plan, the cancellation can only be processed after the request for cancellation is sent by the owner of the account at help@instapage.com, or if it is requested during chat hours.
Hibernation
In case you want to pause your account for a certain period of time, we offer a hibernation plan for $29 USD/month. This will ensure that your pages, domains, integrations, and other assets remain on our servers, untouched. During the hibernation period, your pages will not remain published and you will not be able to access other parts of the application besides the Subscription page. If you want to request that we put your account under hibernation, contact us at help@instapage.com.
Changing the subscription type
If you decide to change your subscription type before the 14 days trial expires, so instead of the annual you wish to pay for a monthly plan, you are able to do this from inside your account as seen here: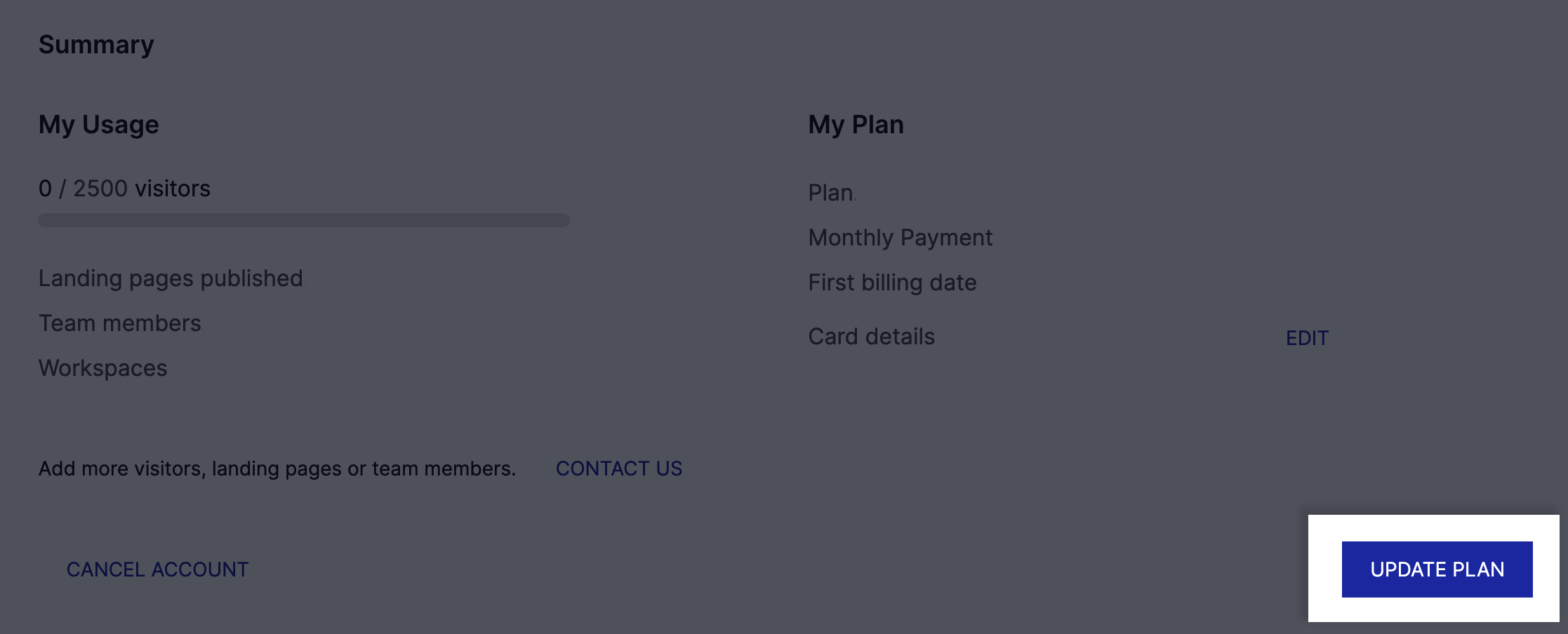 After the billed period starts, you would need to ask the Billing Support Team at help@instapage.com to assist you with the downgrade from the annual to the monthly plan. For upgrading your plan from a monthly subscription to the annual one, there is no need to contact support as you are able to do it from inside your account.