Our AI Content Generator provides you with the opportunity to create variations on your content during the copywriting phase of page creation, scaling A/B test experimentation, which can be used as seen here: https://d.pr/ViVkdJ or the creation of personalized experiences as seen here: https://d.pr/l0kdHp.
This tool generates text variations (using GPT-3) based on the existing text, target audience, product description, and recommendations from our API. You will be able to quickly generate alternatives to your copy, lowering the overall lift to your marketing team.
To access this feature go into the page editor and click on a text box or button that you want to improve using our AI Content feature. You will see the option to REFINE WITH AI on the right-side menu.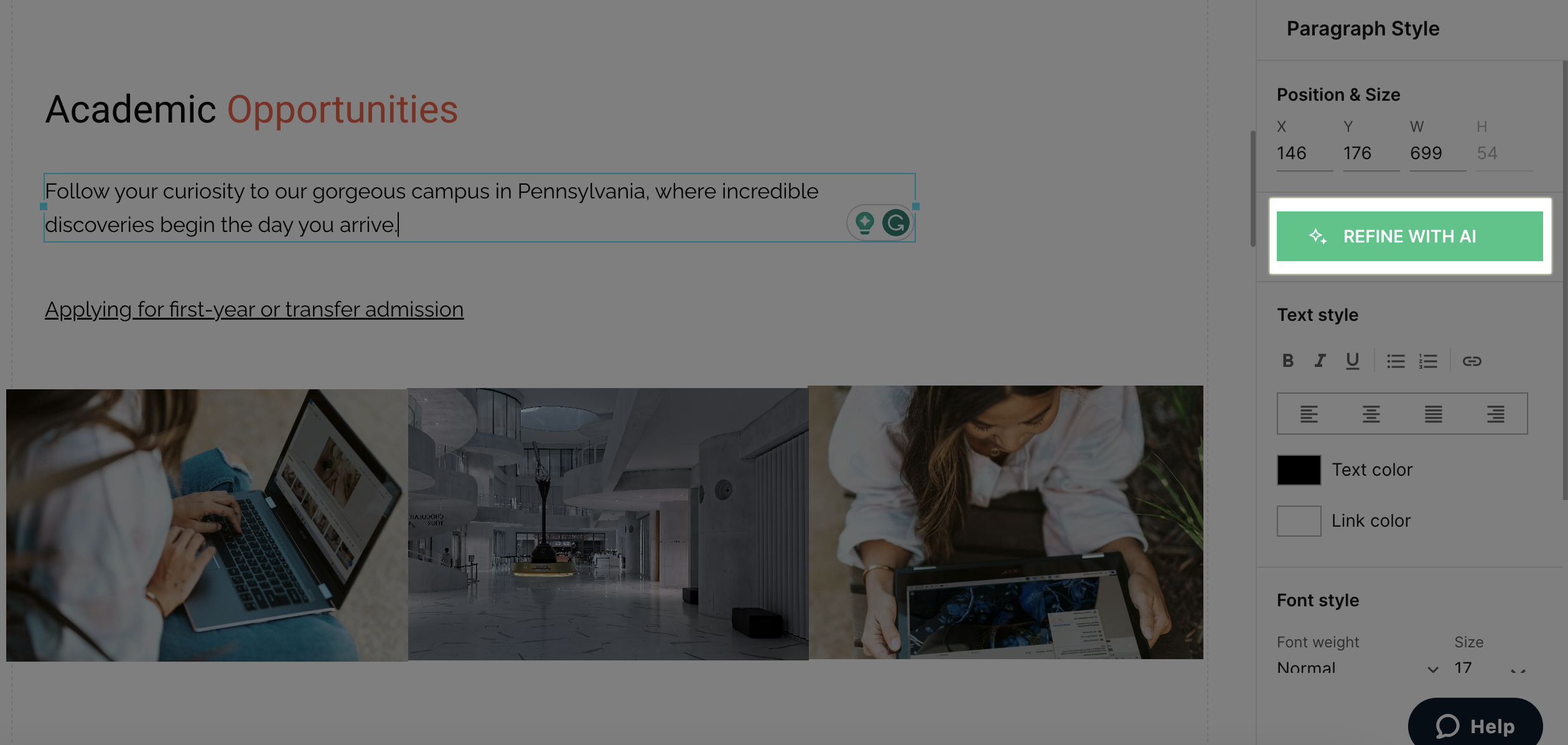 You can enter your Product/Service description and the Target Audience for this page, but it is optional. The type of content will be pre-selected based on the element you are doing this for (headline, paragraph, button), but you can change the text of the element directly from this view as well.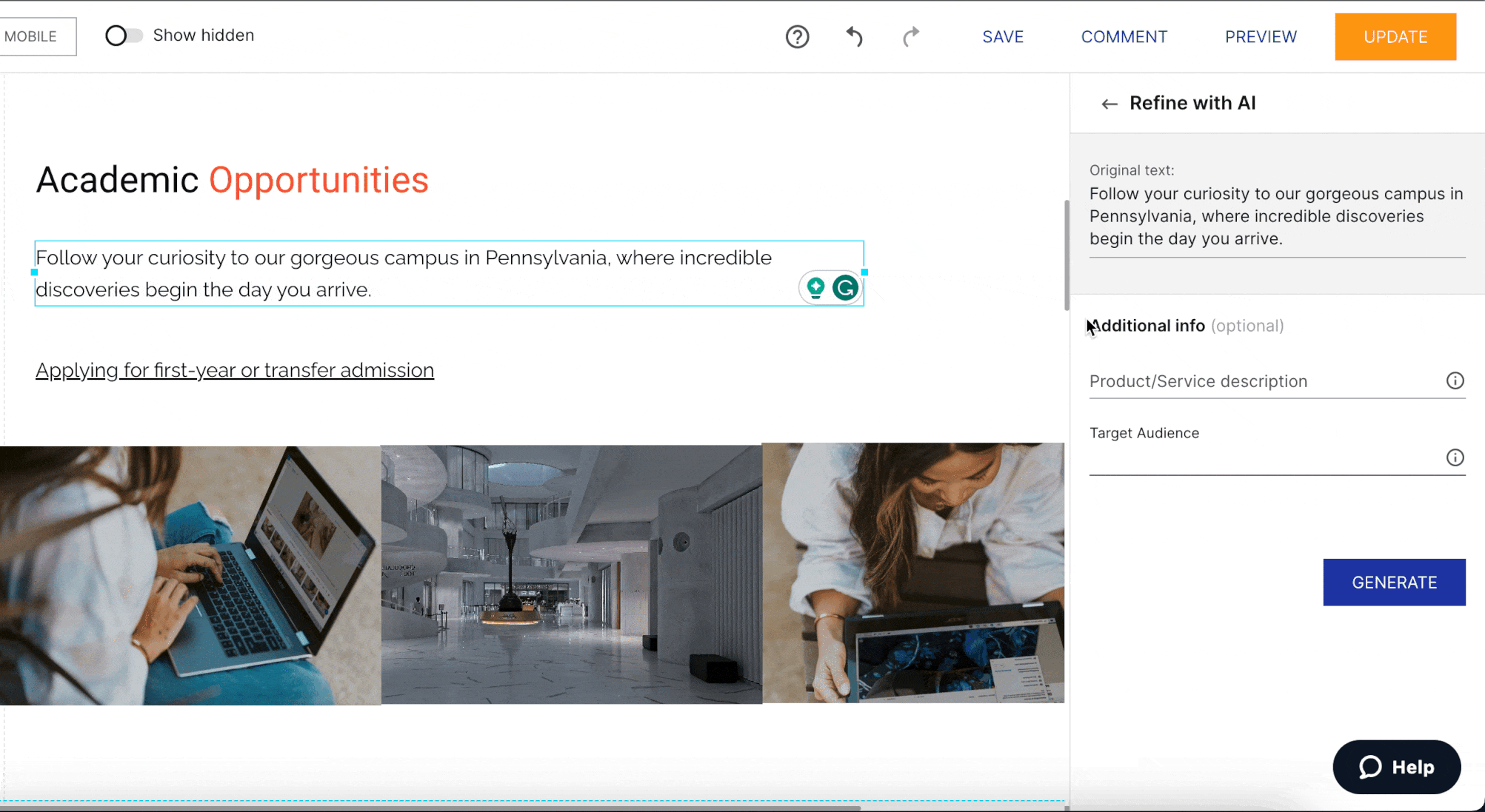 After you have done this, click the GENERATE button.
If you click on the plus icon below one of the entries, it will generate five new variations. These are the best results out of a big pool.
If you click on one of the generated options to select it, it will replace the copy in the page element that you are working on so that you can see how they fit in with the rest of the page.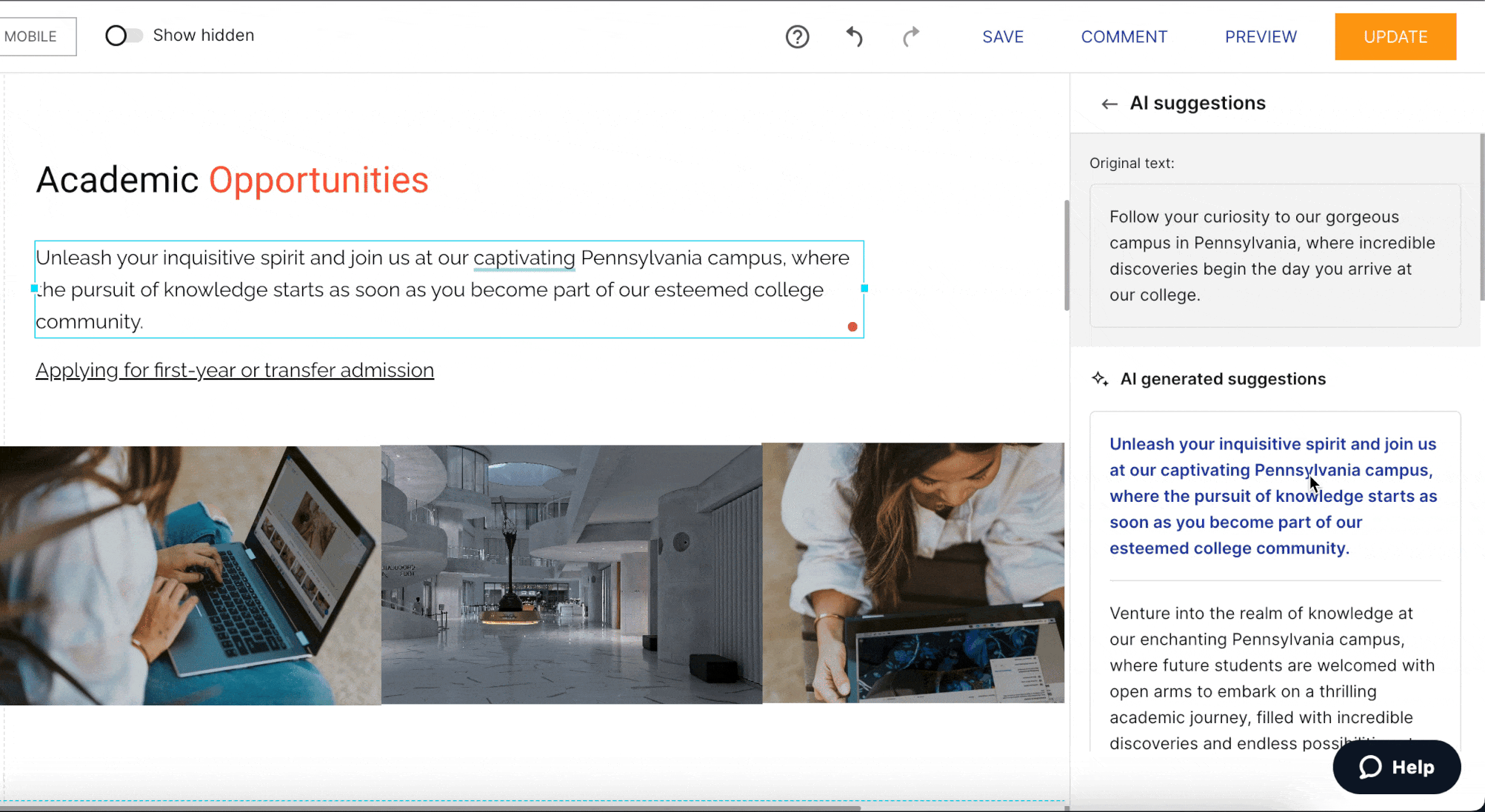 NOTE: As long as you are working on the same page in the same session, it will remember the product/service description and the target audience. If you refresh the page or exit the builder, you will need to enter those details again the next time you use the feature if you wish so.
Best practices for AI content
AI and machine learning can help marketers speed up production and enhance their efforts. In fact, the Instapage Content Generator is based on OpenAI, the API used as the foundation for ChatGPT, DALL-E 2, and other popular AI tools. But these tools can't operate in a vacuum—they need thoughtful application and marketing expertise to reach their full potential. There are a few things marketers need to know to get the most value from AI content tools.
Be specific - For best results, provide a detailed product description. For greater variety and specificity in AI-generated content, aim for descriptions at least 8 to 10 words long.
Be relevant - Landing pages must be targeted to an audience segment and ad group. Include information about your audience's role, industry, and use case in the Target Audience field to generate relevant content.
Be curious - Combine the AI Content Generator with other Instapage features like A/B and multivariate testing to speed up the experimentation process.
Be mindful - AI is not a perfect solution for every problem, but with persistence and an open mind, it can help marketers move faster, work smarter, and get better results.