Invisible reCAPTCHA allows you to protect your website from spam and abuse.
Here's how to add it to your Instapage workspaces:
1. To add invisible reCAPTCHA to all the pages in your Instapage workspace, click on the name of the workspace on the top left, then select Workspace settings and choose Integrations;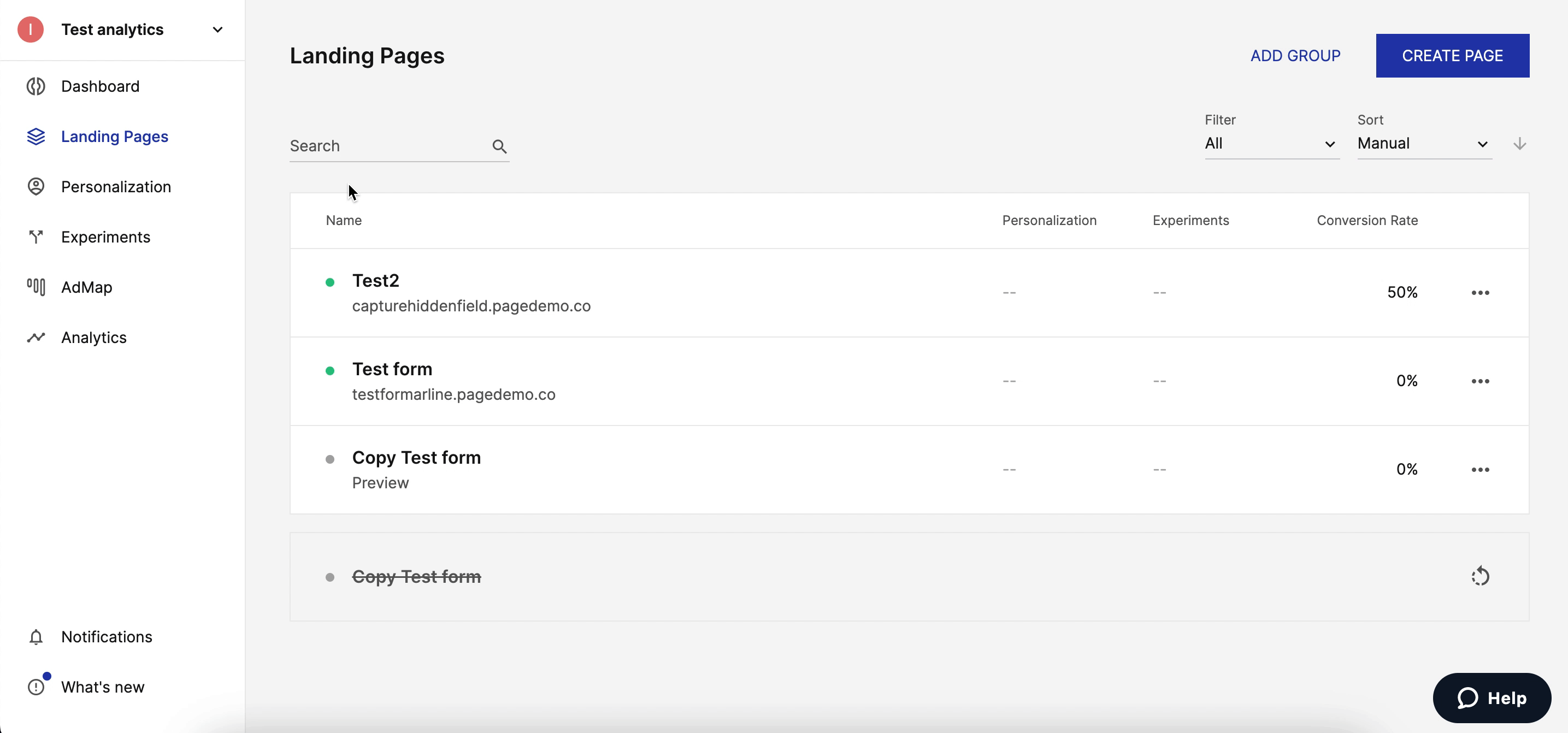 2. Under Page Integrations, click Invisible reCAPTCHA;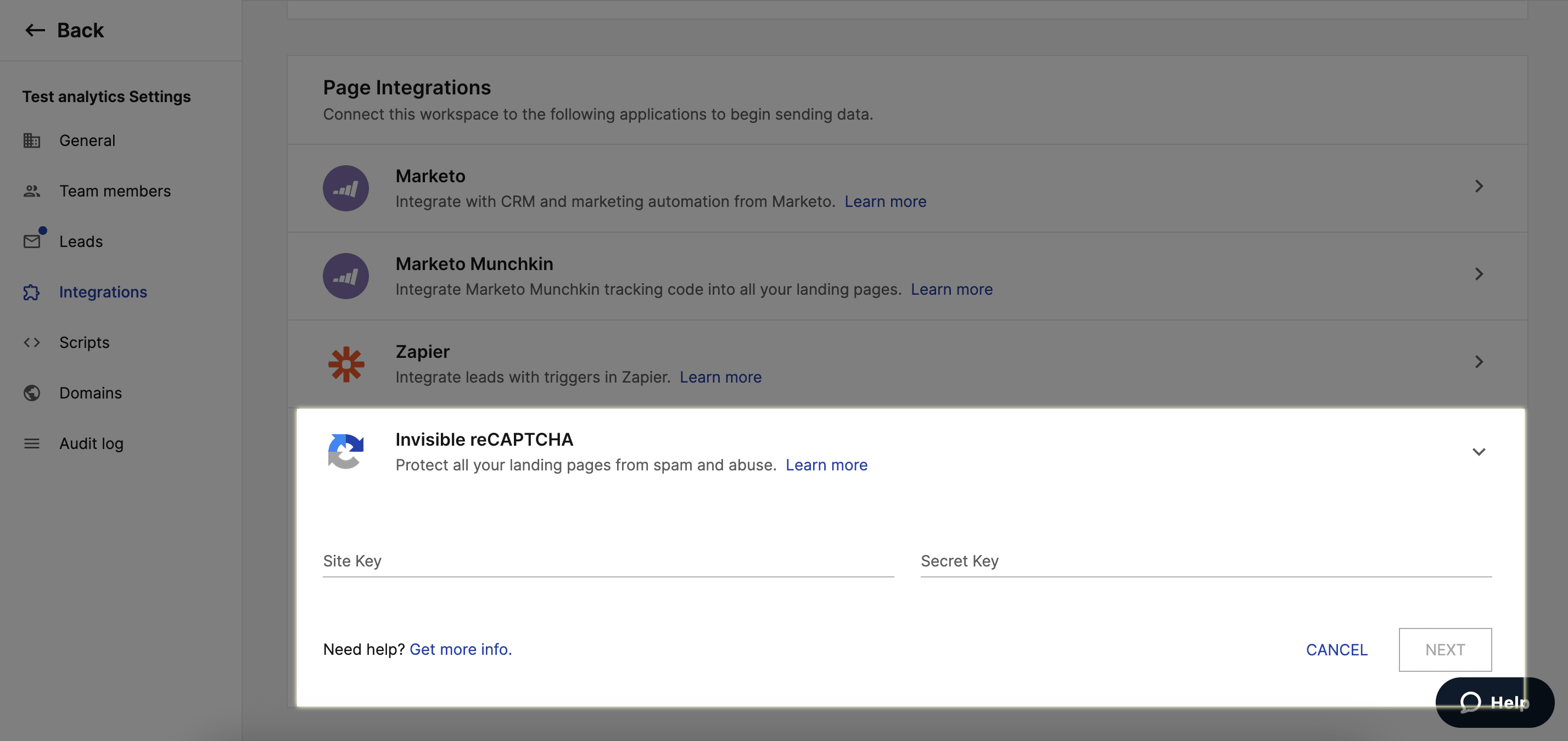 3. To find your site key and secret key, follow this link: https://www.google.com/recaptcha/admin/create and click on the Admin Console button;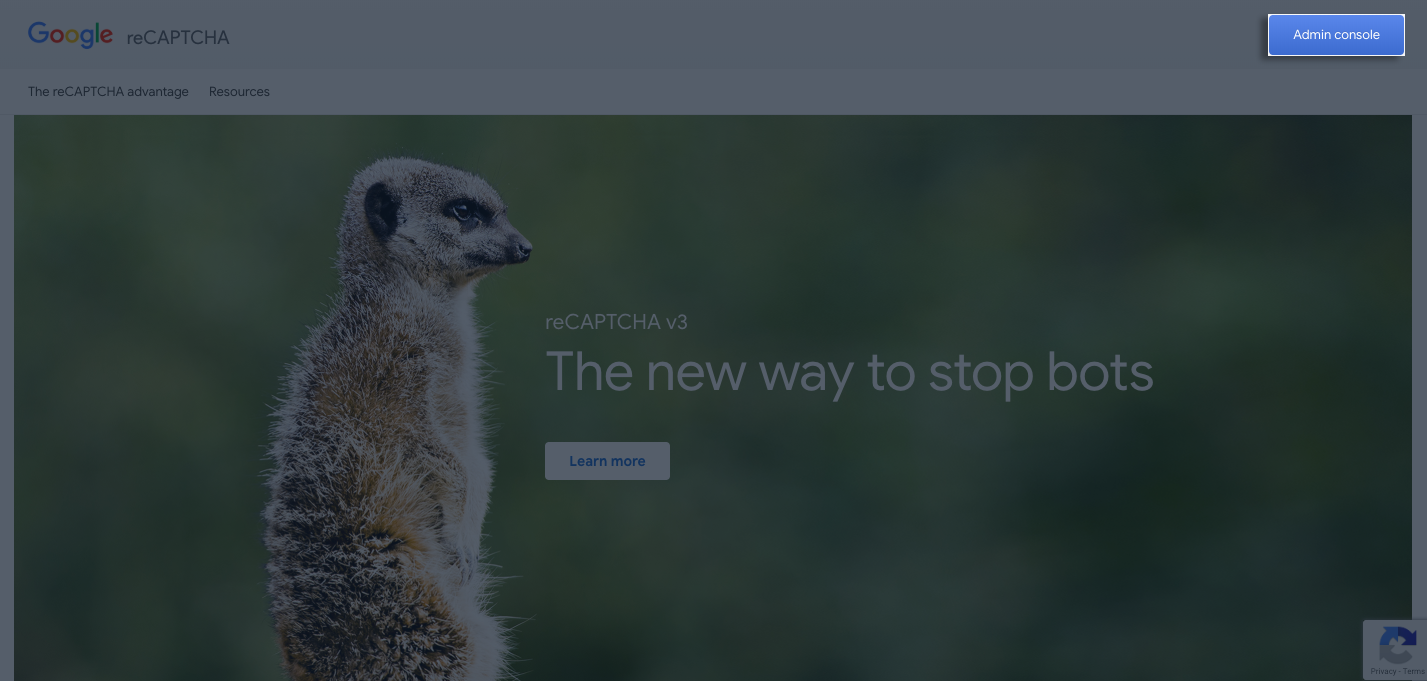 4. Sign into your Google account or create one if you haven't already;
5. Label your site so you can keep track of which sets of keys you're using;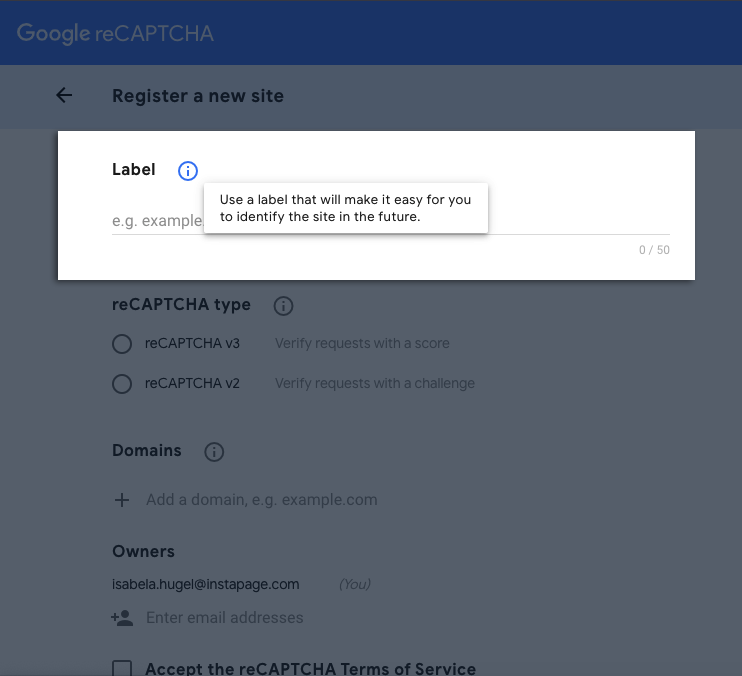 6. Select reCAPTCHA v2, then Invisible reCAPTCHA, enter your domain, accept the terms of service, and click Submit;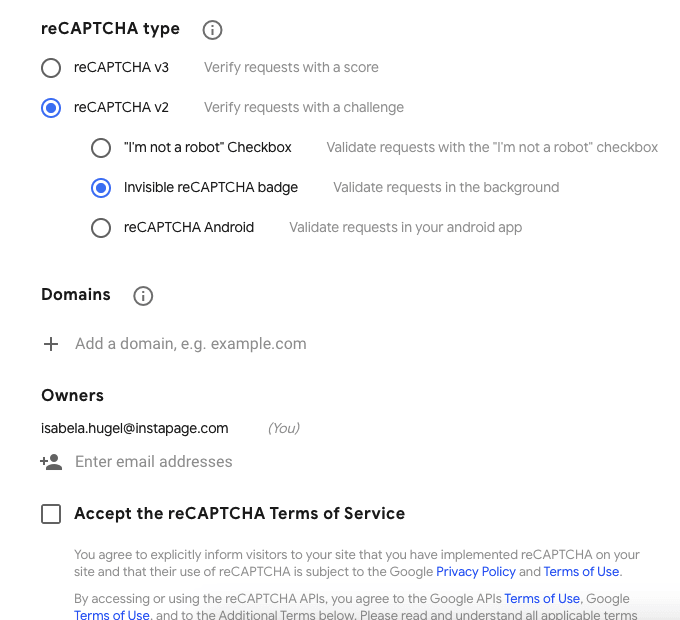 7. Once your registration is complete, you will have your site key and secret key. Copy and paste them from Google into Instapage;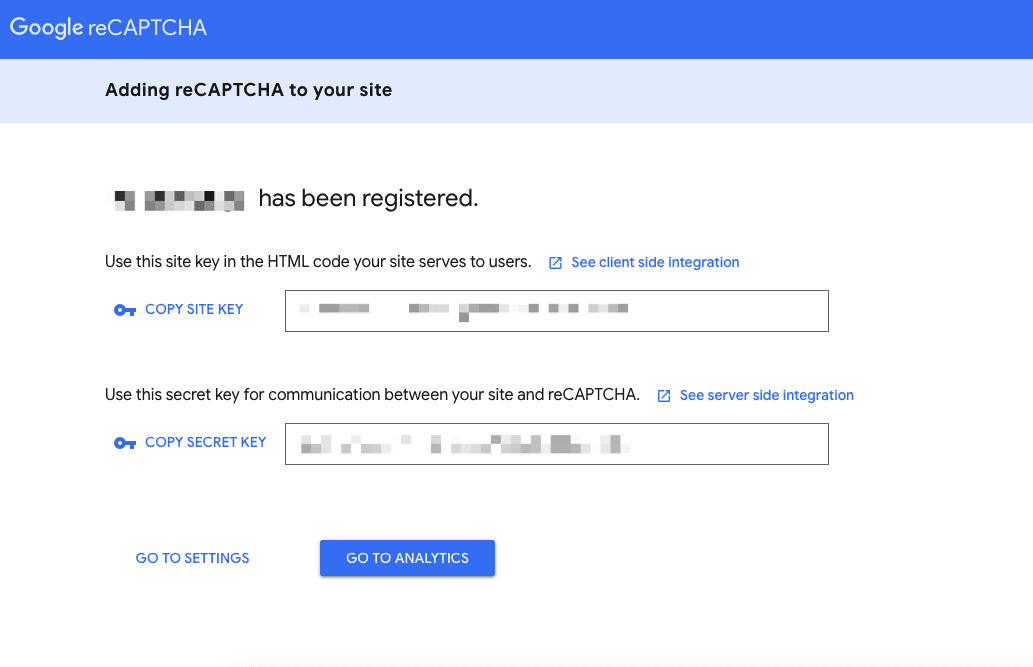 8. Go back to the Google reCAPTCHA page and click on Go to Settings;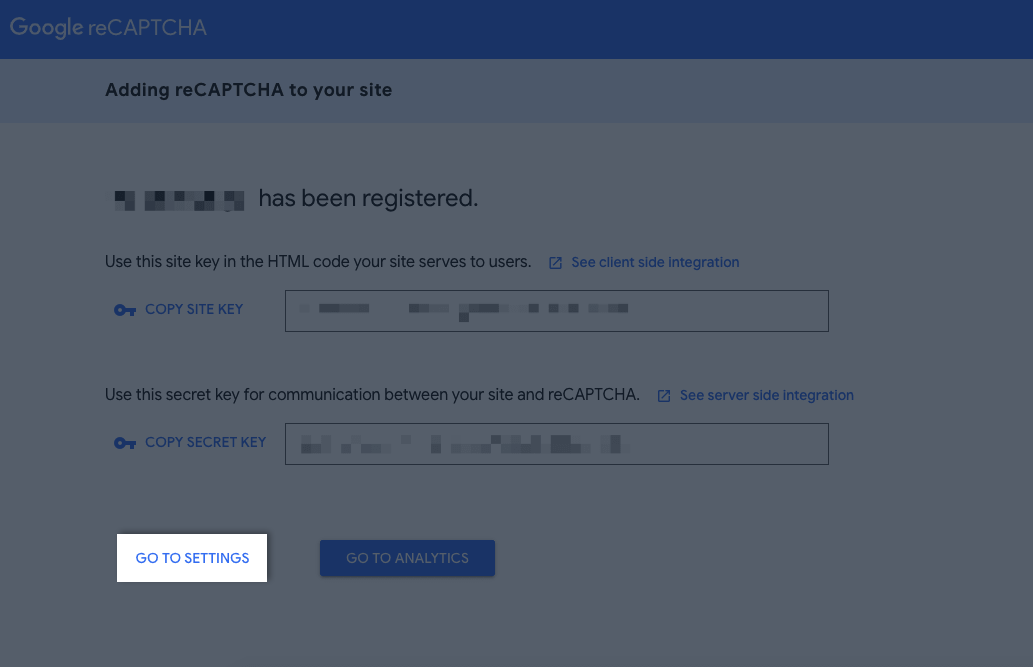 a) Under Domain Name Validation, uncheck the box that says Verify the origin of reCAPTCHA solutions and click Save. Doing so will allow you to activate invisible reCAPTCHA on all domains without the hassle of entering the domains one by one. The warning message on Google should not concern you unless you intend to share your site key and secret key publically;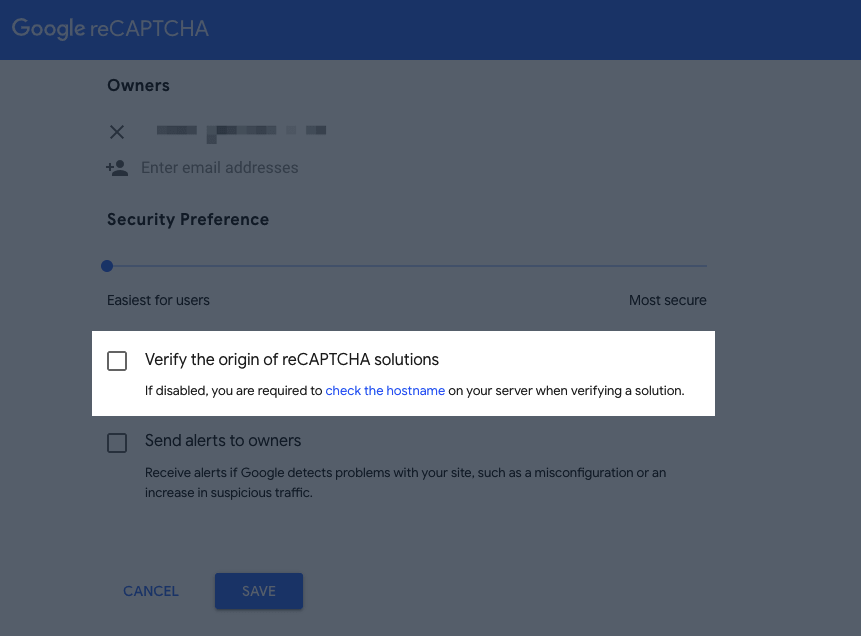 b) Go back to your Instapage window and check the box saying I have unchecked Verify the origin of reCAPTCHA solutions. Then click Connect.
9. Once you are done, all the pages in this particular Instapage workspace will have invisible reCAPTCHA activated, regardless of which domain they are published on. To activate invisible reCAPTCHA on other workspaces, simply switch over to the other workspace and repeat the steps above. To simplify the process, use the same site key and secret key generated in step 7. Those can be found in your Google account.
NOTE: The reCAPTCHA is supported on the two most recent versions of the following browsers:
Desktop (Windows, Linux, Mac): Chrome, Firefox, Safari, Edge
Mobile: Chrome, Safari, Android native browser