When you first add a domain to your Instapage account, our system will assign domain ownership to your account, in order to prevent domain hijacking. This will essentially lock the domain so that other Instapage accounts can't use it without your approval.
If the Instapage account that added the domain is still active, they can easily approve page publishing requests from the Instapage dashboard directly (check out this article for step-by-step instructions).
If you own a domain name which is already associated with another Instapage account, and you can't ask for publishing permission (because the account is closed, you don't remember who owns the domain within Instapage, or you just bought a domain name which was coincidentally used by the previous owner with Instapage), you can quickly prove ownership by adding a meta tag to your website's homepage.
Note: This won't affect the look and functionality of your website in any way.
You're just two steps away from verifying your domain name to unlock it from an Instapage account.
First, go to our Domain Ownership Recovery page, and fill in the form with the email address you used for your Instapage account and the domain you'd like to unlock, then click on Next Step.
This will redirect you to the second step of the domain recovery process. Click on Meta Tag Verification Method. Copy the meta tag code, and paste it into your site's home page. It should go in the <head> section, before the first <body> section.

Here's how it should look like: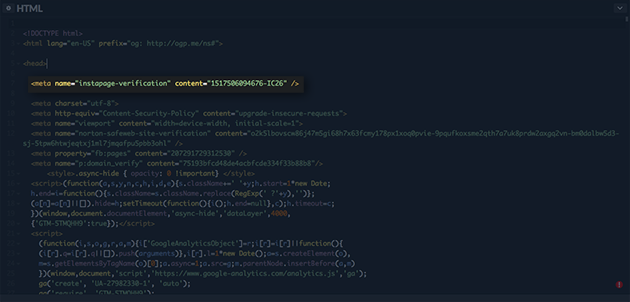 After you've added the meta tag on your site, go back to the Domain Ownership Recovery page. In the opened pop-up window, click on Verify.
Now, all you have to do is to wait for the confirmation email, and then you can remove the meta tag from your site.