In the analytics dashboard, you can see how your page is performing and adjust the settings for your A/B split tests. Note that our analytics dashboard will show the information in a single UTC+0 timezone.
To access it just click on the Analytics button in your main dashboard or the Analytics tab from the left-side menu of your page.

By default, the analytics dashboard will show you the stats for both the Desktop and Mobile version of your page, and for all visits (you can also get information for unique visitors).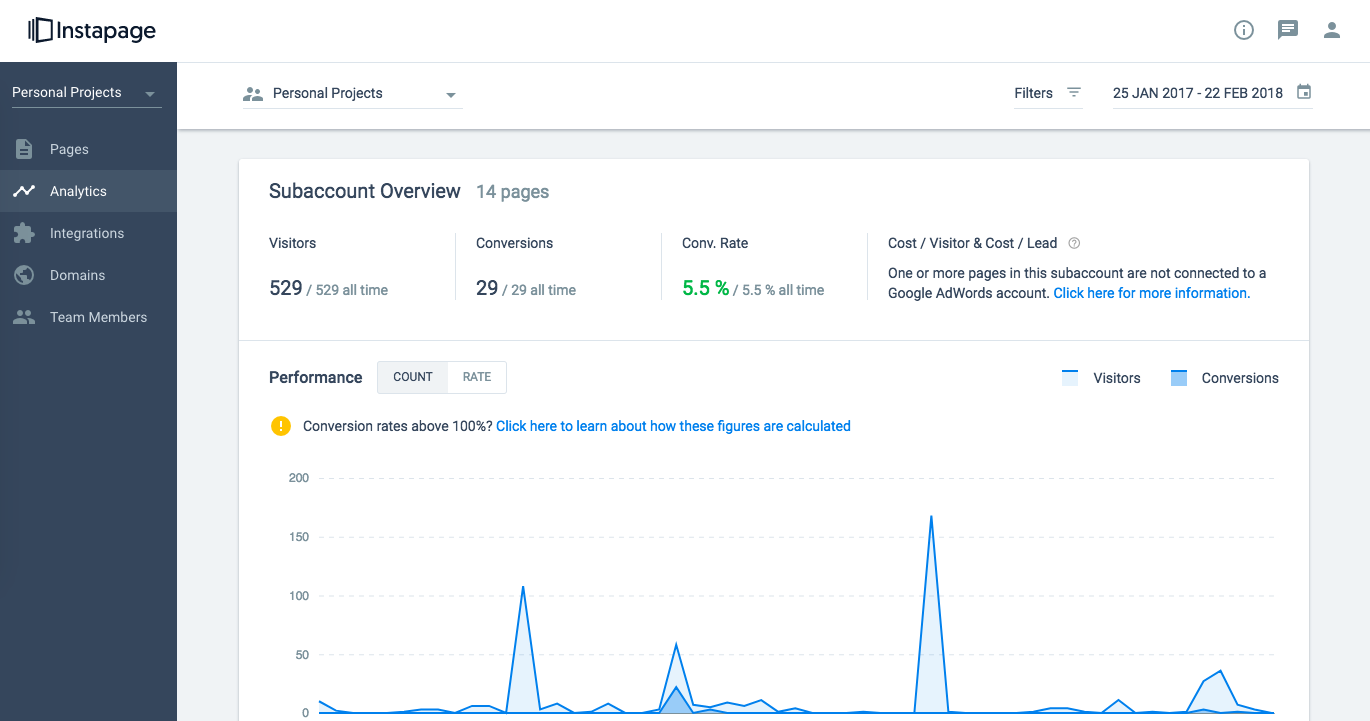 In the top bar, you can quickly switch between pages or see a report per-subaccount, download a report, apply filters, select date ranges, and access the leads dashboard.
You can click on the date range to open the calendar and select the period of time you want to view.

The Filters dropdown will give you access to this menu, where you can choose between All, Desktop, and Mobile visitors, and you can choose to take into account All visitors or Unique Visitors. The Traffic source filter allows you to choose between Paid and Organic traffic.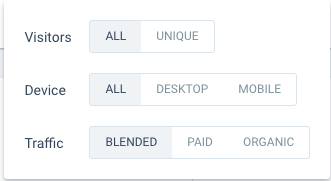 The Experience Overview section shows general information about your experience: Visitors, Conversions and Conversion Rate.

The Performance graph gives you information about visits, conversions and bounce rate (the percentage of visitors to a particular website who navigate away from the site without converting) in the Count mode and information about your conversion rate in the Rate mode. Just hover your mouse over any date to see the numbers.

The Performance by variation graph shows you conversions per variation for all the ongoing variations: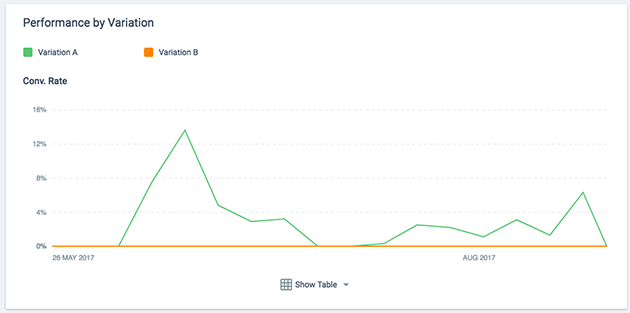 The Data Overview section gives you detailed information about how the variations are performing compared to each other: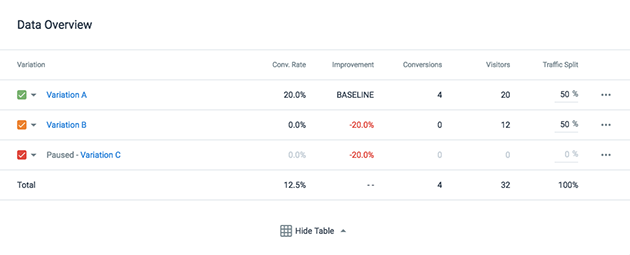 In the A/B testing table, each variation tracks four primary metrics:
Conversion Rate

: The percentage of visitors that turned into a conversion on that page variation.

Improvement

: The difference in the conversion rate tested against the Base variation. Example: If version (A) has a 20% conversion rate and version (B) has a 25% conversion rate, your Improvement would be +5%Conversions: The number of visitors that have filled out a form or clicked on a Call-to-Action button

Conversions

: The number of visitors that have filled out a form or clicked on a Call-to-Action button.

Visitors

: The number of visitors that have seen that landing page variation
If you are running an A/B split test on your page, you can set the percentage of visitors that will see each variation.

In the last column, besides the options to pause, rename and delete variations you can also set a new baseline.