If you already have a website published on your domain, note that editing the "www" record will replace your website with the landing page. To avoid this, please create a new CNAME record and configure it using the guide below.
1. Log in to your account at http://www.dreamhost.com/login.html;
2. In the sidebar on the left, expand the Domains panel and select Manage Domains;

3. Scroll down to your domain name and select the DNS link underneath the domain;

4. The "Add a custom DNS Record" section should be near the top, enter the following information;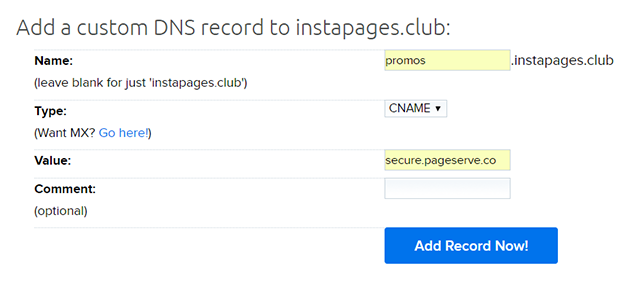 For the Name, enter only the subdomain of the address you want to use for your Instapage custom Domain. For example, if you picked lander.mydomain.com as your address, enter lander here. Or, if you're using a root domain such as www.mydomain.com then you'll want to enter www here. Do not leave this blank;
Select CNAME from the Type dropdown menu;
Enter pageserve.co as the Value;
Click Add Record Now. You will now need to wait up to a couple of hours for the CNAME to function.