We have preloaded 40 of the most popular Google web fonts for you to choose from. Access the font settings by clicking on this button found on the right sidebar in the page editor: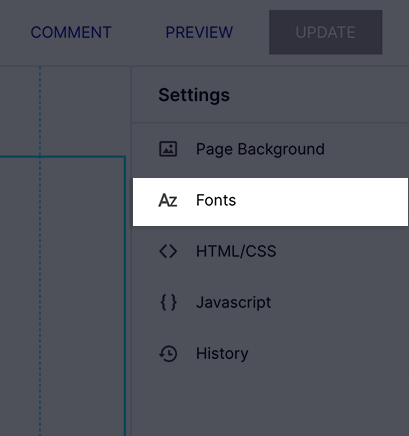 You can select different fonts for headlines and for paragraphs. You can also modify some of their attributes.

You can choose a font weight for each of the two, but keep in mind that you can set that individually for each text box on your page as well. To do that, click the text box, click Edit and then use the dropdown next to the font size as seen below.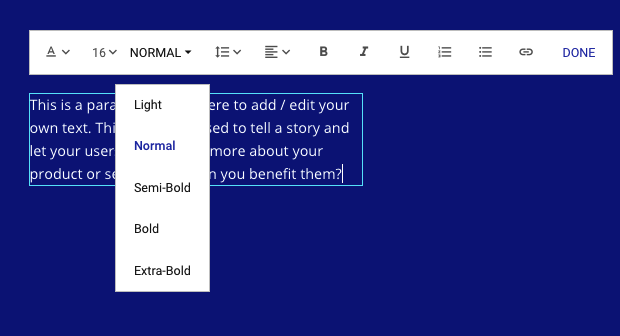 Google Fonts
If none of the 40 preloaded fonts catch your eye, you can choose any Google Font to add to your page. Google Fonts offers hundreds of free open-source fonts optimized for the web.
To add a font, simply select it from the Google Font drop down, and click on "Add Font".
Adobe Font
Adobe Font is a subscription based font service that brings thousands of fonts together for easy browsing and web application.
Like with Google Fonts, there's no need to upload or integrate with any external API. Each font group is already uploaded to the Instapage builder and ready to use. Just select the desired font from the Adobe Font drop down, and click on the "Add Font" button.
Why do we only allow two font types?
We have chosen to implement this limitation in an effort to help you maintain web design standards. There is almost never a good reason to use more than two font family types on a landing page design.
Your users will have a more professional and simplified experience when they land on your page. For the best results, make sure to use both the headline and paragraph elements appropriately.
What do I do if the font I want is not on the list?
If you want to use a font that is not found in our default list and neither in the Google or Adobe ones, you can add it to the page using custom code, if you have a developer on your team that can help. Note that our support team is unable to assist with coding.
Users on our Converting Solution can upload their own custom fonts with the help of our team. In case you are interested in this feature, contact us at help@instapage.com to upgrade your subscription.