Instapage lets you track external conversions by embedding our tracking script on your target conversion page. This is great when you're using an Instapage landing page to drive online purchases, or anytime your real conversion action does not happen on the Instapage landing page itself.
This is especially important when you're conducting a test as you need to know which page drives better overall results.
Follow the instructions below to embed a script on your conversion page. It's best to place it in the Javascript > Footer section of the thank you page if it's an Instapage page, and before the closing </body> tag if it's an external page.
Instapage automatically turns off all other Conversion Goals on your page so that only visits to your external page are counted as conversions.
1. Click on the page name in the list of pages and then enter the builder by clicking Edit Design;
2. Click on Conversion Goals situated on the right sidebar;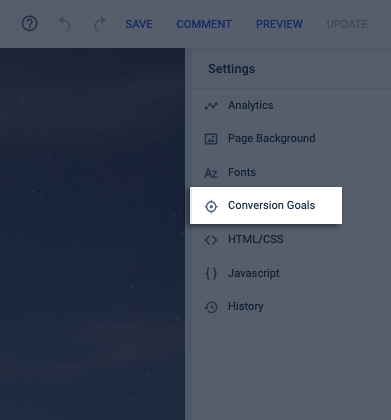 3. Select External Conversion tracking.
4. Copy the provided Script.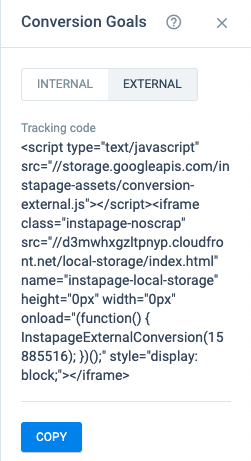 5. Insert the script on the External Page.
6. Done. The script can be seen on the External Page's view source.

NOTE: In order for the tracking to work properly, both the landing page and the thank you page on which you're adding the code snippet, need to have the same protocol (either http:// or https://).
The visitor's browser must also not block 3rd party cookies because our external tracking works via cookies. Some browsers have this option enabled by default. Chrome also has this option, in some cases, enabled by default. This is controlled only from the browser of the visitor. (you can find a reference screenshot from Chrome's settings here).
Important notes:
1. You cannot have both internal and external conversion tracking enabled for a page at the same time. They are mutually exclusive. Make sure that you leave the External tab active when you save and leave the page.
2. The external conversion tracking works based on visits to the thank you page. It only counts unique visits, so the same person cannot cause a conversion twice.
3. You can use external conversion scripts from multiple Instapage pages on a single Thank You page. This will not trigger a conversion in all of the pages. A conversion is tracked if a visit is registered from the same user on both the original page and the Thank You page in a certain timespan. Unless the visitor visited two of the pages that you added code from, the conversion will not be triggered on both.
4. There are some browser settings that will block our external conversion tracking if they are not turned off, when the landing page domain is not the same as the thank you page domain. In Google Chrome it is called Block third-party cookies, in Safari it is called Prevent cross-site tracking, and in Mozilla Firefox there are the Strict settings and the Do not track setting in the "Privacy & Security" section. This might cause some visitors' conversions to not be tracked, as these settings are local to their own browsers and cannot be controlled by us.