Instapage lets you track external conversions by embedding our tracking script on your target conversion page. This is great when you're using an Instapage landing page to drive online purchases, or anytime your real conversion action does not happen on the Instapage landing page itself.
This is especially important when you're conducting a test as you need to know which page drives better overall results. 
Follow the instructions below to embed a script on your conversion page.  It's best to place it in the Javascript > Footer section of the thank you page if it's an Instapage page, and before the closing </body> tag if it's an external page.
Instapage automatically turns off all other Conversion Goals on your page so that only visits to your external page are counted as conversions.
1. Open the relevant page in the Instapage Editor;

2. Click on Conversion Goals situated on the Settings right sidebar;
3. Select External Conversion tracking.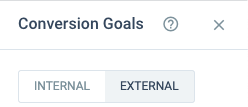 4. Copy the provided Script.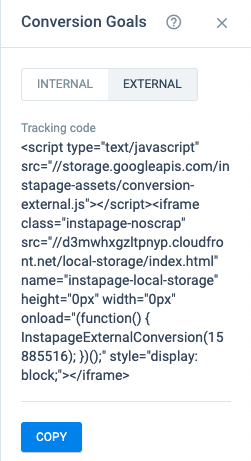 5. Insert the script on the External Page.
6. Done. The script can be seen on the External Page's view source.

* Please note that in order for the tracking to work properly, both the landing page and the thank you page on which you're adding the code snippet, need to have the same protocol (either http:// or https://).