Publishing your landing page on your own custom domain is one of the best methods to maintain brand unity across your advertising campaigns. You can do this using our CNAME publishing option.
What is a CNAME and why do I need to use it?
A CNAME is a type of DNS record that you have to create in your domain registrar settings and point it to our servers (secure.pageserve.co). Once the record points to Instapage, you will be able to publish your landing pages on your own custom domain.
Great, what do you need?
You will need to own a domain name and have access to its DNS settings. If you want to purchase a domain, click here. If you already own one, you will need to add it into Instapage first and then go into your domain registrar's DNS settings and create a new CNAME record. But first, let's get your domain added to Instapage (so we know what domain to look for when you point it to our servers) before continuing with your registrar.
There are two ways you can publish to your domain. The first method is the most common scenario for users, where you will add a subdomain of your website to Instapage. This is for users who already have a website running on the domain they would like to add to Instapage. The second method is for users who want to publish a main website on their domain which is a bit less common.
Adding a subdomain of your website to Instapage
1. Go to the Domains menu;
2. Click Add New Domain;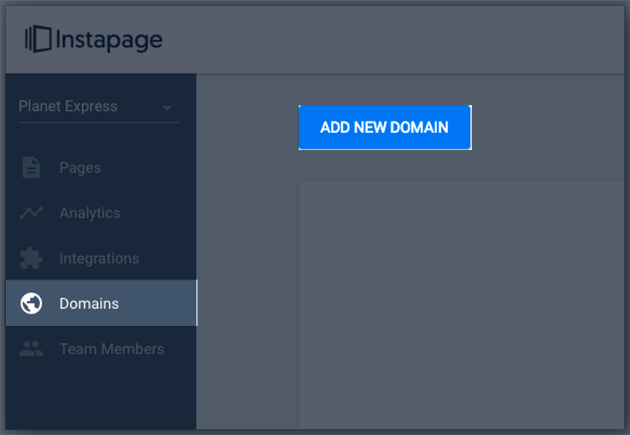 3. In the subdomain field, choose a new subdomain that you'd like to use for publishing all your pages in the future. Some examples may include "campaign", "go" or "promo". Keep in mind that you will need to use the same subdomain name on your domain provider's side later on in the setup process;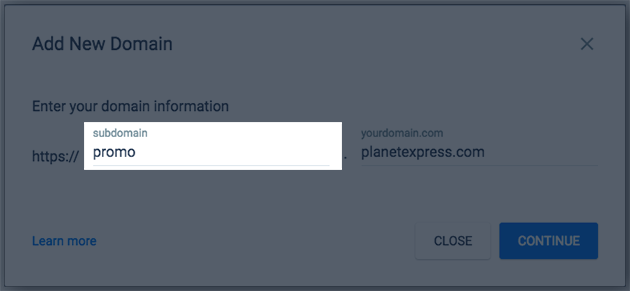 4. Add the domain name in the second field;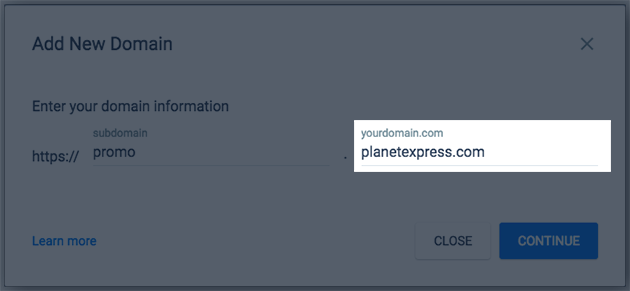 5. Now just click Continue.
Adding the main domain to Instapage is done following the same steps only instead of "promo" you have to type "www" in the first field. Using this method will allow you to publish your landing pages as your main website.
The next step will require you to go into your domain registrar's DNS settings and point your domain to Instapage. Please take a look below to find specific instructions for one of the registrars on how to connect the CNAME record. If your registrar is not located below, please follow the generic setup instructions.
Creating a CNAME record
1. Log into your domain registrar and locate the DNS or advanced DNS settings;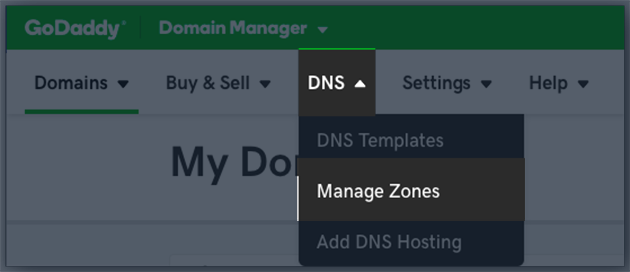 2. Type your domain name and click Search;

3. Create a new CNAME record;

4. Now, use the subdomain name you have picked earlier, in our example we used "promo". Input it in the host field. In the "points to" field, type in our server address: secure.pageserve.co;

Note: You shouldn't edit the TTL field, just leave there the default value assigned by your domain provider.
By adding this entry, you are allowing Instapage to publish landing pages to that specific subdomain. For example, adding a CNAME record for the domain "instapage.com" with the subdomain "promo" will allow you to publish an Instapage landing page on promo.instapage.com/
Great! It can take a few hours for your domain to get fully connected. So please check the domains page for a green secured icon to indicate that the domain is fully propagated.
Publishing your landing page
After your record has fully propagated, you are ready to publish a page onto your domain.
1. Choose a page that you would like to publish and enter edit mode, then click Publish in the top right corner;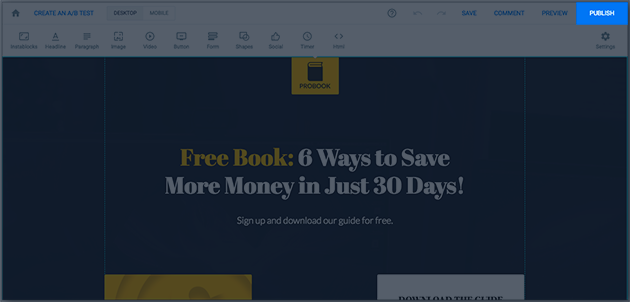 2. Select Custom Domain from the five publishing options;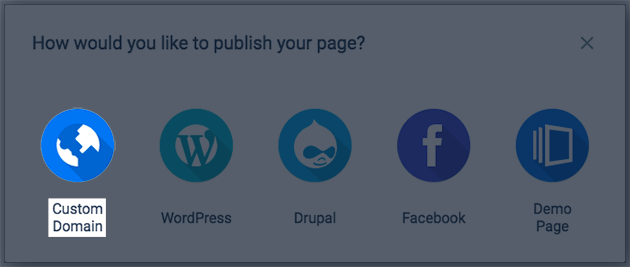 3. Next, select your domain from the drop-down list and type in a new subdirectory URL name in the second field;
4. Now click Publish and you are done.

Your published page URL should look like this: promo.domain.com/campaign
Please note that you can add as many unique URLs to this subdomain as you'd like. However, to publish to a new subdomain, you will need to add another CNAME entry in your domain registrar.
Note: If you have a website on your domain (usually on the root domain - www) you SHOULD NOT use www for the CNAME you will create for publishing your Instapage landing page, as it will result in your site being offline.