"The Settings" menu contains the key components of personalizing and managing your page. Here you can modify your background, set default fonts, implement SEO, and more.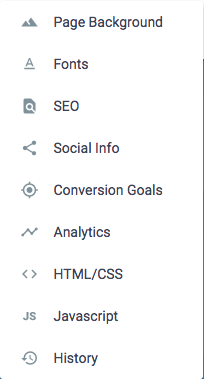 By clicking on the Background Button, you'll be able to select preloaded quality backgrounds or create your own by choosing the "customize background" button shown below.


By clicking on the Fonts button, you'll be able to choose from a series of beautiful Google web fonts we've hand picked. You can also choose from the rest of the Google Fonts library and all the fonts from Adobe Typekit and personalize your landing page even more.


By clicking on the SEO button, you'll be able to enter the Title, Description, and Keywords you'd like Google to display for your page. We've created a preview that shows you what it will look like on a search result page.
From this menu, you can also upload a custom Favicon or automatically hide your website from search engines.


The Conversion Goals panel allows you to have control over what should the system count as a conversion.
You can track these as conversions:
Form Submissions
Links on page
External Conversion Tracking

Analytics

By clicking on the Analytics Button, you can add to your page IDs from Google Ads, Google Analytics, Facebook Pixel and Google Tag Manager, for tracking purposes. 

Social Info

By clicking on Social Info, you can add information for the share preview attachment when you share your page on social media platforms.


By clicking on the HTML/CSS button, you'll be able to enter custom HTML and CSS into a simple code editor. Only use this advanced feature if you're confident in what you're doing as it will affect your page.

Javascript

By clicking on the JavaScript button you'll be able to enter custom Javascript into a simple code editor. Only use this advanced feature if you're confident in what you're doing as it can affect your page.

Page History

By clicking on the Page History Button you'll be able to see previously saved versions of your landing page. This comes in handy if you'd like to revert to an old design that you may have liked better.