URL parameters are tags that are added to the end of your URL, usually for tracking purposes or for dynamic content insertion.
Note: This feature is available to our Optimizer, Team&Agency and Enterprise subscribers. 
The most known type of URL parameters are UTM parameters, used by Google and Facebook ad links, in order to find out more about how your visitors interact with your ad.
You can also send form submission information through URL parameters on redirect, if you would like to create, for example, a personalized thank you page.
With our Dynamic Text Replacement feature, you can use the information from the URL parameters on your landing page. You just have to type the exact same thing as in the URL, between square braces, and that's it.
The URL of the page is www.mydomain.com?utm_source=google
You can use [utm_source] in a hidden field on your form in order to see if the visit was triggered by an ad shown on Google. Here's how the form from your page will look: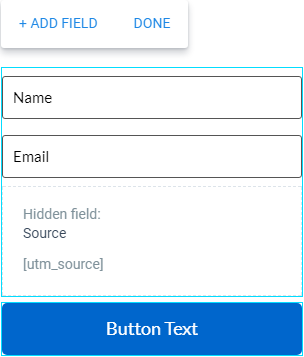 Example - use case 2
Your landing page is www.mydomain.com. On it, you have a form which requires the visitor's name and email and is set up according to this guide, to send the information from the form through the URL. The landing page redirects after form submission to a thank you page.
The URL of the thank you page is: www.mydomain.com/thankyou?name=John&email=john@jones.mm
You can use the information in the URL parameters in order to create a closer link with your visitors via a customized thank you page.
In this situation, just type in [name] and [email] in a headline or paragraph, in order to create a customized message for your visitor. This is the live version that John will see after being redirected to your thank you page: