The first step in editing any piece of content is by clicking on the blue Edit button shown below: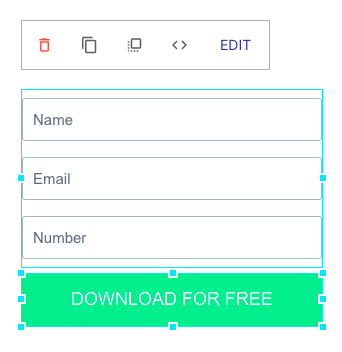 You will then be presented with this menu, in which you can further edit the form's style and functionality: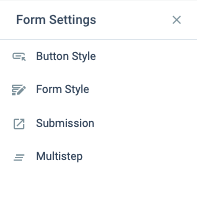 However, new and old form fields are edited within the form selector itself.
Editing Form Fields: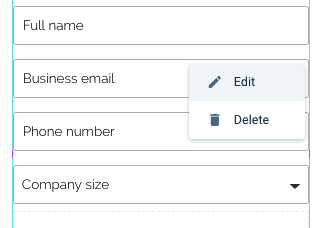 There are 3 primary form field editing options:
Edit the properties of an existing form field;
Delete the form field;
Rearrange the position of a form by clicking and dragging.
Each different type of form field has its own properties.
Input fields can have formatting validation enabled, which means that they will not allow the visitor to submit the form if that field does not have input in the form of what you set up. If you choose email validation, the visitor will only be able to submit the form if he enters input of the type text@text.text in this field.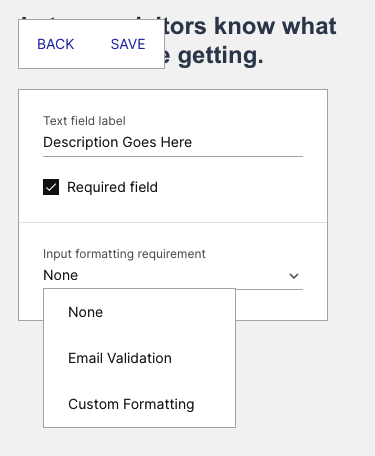 You can also add business email validation for your email fields by following our dedicated guide here;
Label: Description of the information you'd like to collect from your visitors;
Required: A visitor will not be able to submit the form if they leave a required field empty;
Drop-down, checkbox, radio button selections: These types of form fields typically require a few pre-defined options for the visitor to select from.
Adding New Form Fields: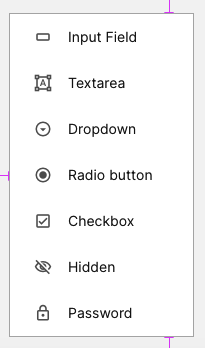 You can add new form fields at any time by clicking on the Add New button. Doing so will present you with 7 field-type options.
Input Field
Textarea
Dropdown
Radio button
Checkbox
Hidden
Password
The hidden field will not be visible to the user, but it can have a set value or a dynamic one (based on the value of a URL parameter). Click here for more details.
The password field will be encrypted. The content appears as asterisks **** both on the live URL and in the lead data in Instapage. The content of the password field can be viewed in the lead info in a CRM if the page is integrated with a CRM. To learn more about the integrations we have and how you can connect them, click here.
The checkbox field will send the value entered for each option when checked and will send no value when left unchecked. It does not send boolean values.
For the Input Field, you can select the Custom Formatting option in order to restrict how the page visitor can enter information. You can also choose to have a numeric pad appear on the mobile version of the page.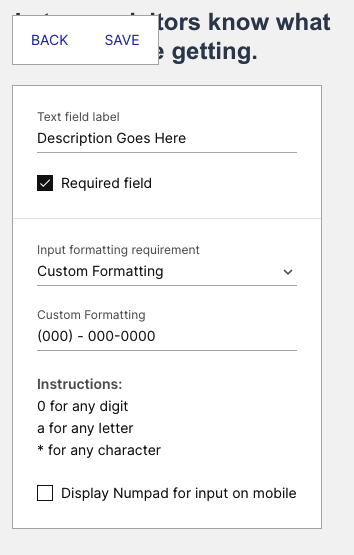 You can use this for phone number formatting, or, for example, if you have a Zip Code field and want to only accept inputs made up of 6 numbers, you can enter '000000' there.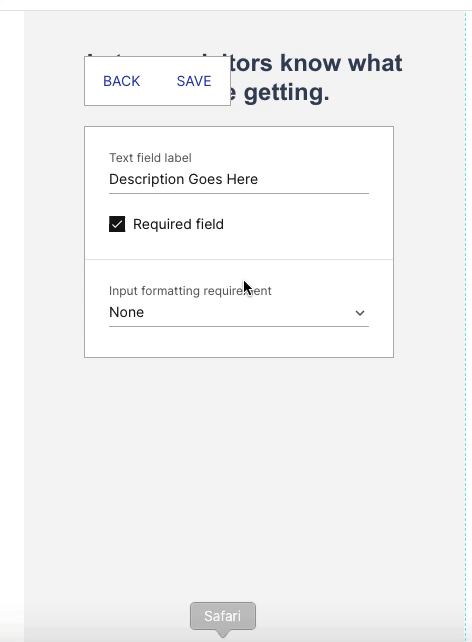 Additional Form Options:
If you click on Form Style you will be able to change elements such as the colors used in the form and the position of the field label.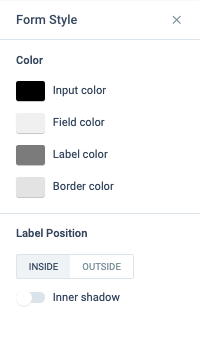 If you click on Button Style you will be able to change elements such as:

Button Text: This is where you'll choose the text that your form button displays;
Drop Shadow: This adds a subtle drop shadow to the bottom of your form button to give it more depth;
Corner Radius: This allows you to round out the corners of your form button;
Border: Allows you to add an outline on your button;
3D effect: Gives the button an added depth look and makes it stand out more;
Button Colors: Select a color for your form button, for when you hover over the button and for the button text;
Glossy: This adds a subtle gradient to your form button to give it a 3D look;
Flat: This adds a flat look to your form button to give it a modern/simple look;
Text Shadow: Check the text shadow box to add a discreet shadow to your text;
Button Font: You can control the font used and its size.