The termination of the contract is done according to our Terms of Service and it can be requested at any time at help@instapage.com only from the email address associated with the account. If this is not possible, we reserve the right to ask for additional information to prove ownership, such as but not limited to the last four digits of the credit card and its expiration date. The changes will take effect from the date of the next billing cycle. Inactive accounts will not be considered as terminated unless a specific request is sent.
If you terminate within 24 hours of your order, you will be eligible for a refund. Should more than 24 hours pass, your payment is non-refundable and your service will continue until the end of your subscription term.
Instapage is under no obligation to store your Content and may delete your Account and your Content immediately upon termination or may keep your Account and your Content for up to 60 days following the last day of the month of termination. If you cancel but want to come back at a later date, we recommend downloading your landing pages, analytics stats, and leads. If you want to reactivate at a later date, you can email us beforehand at help@instapage.com, to ask us to check if your data happens to still be in the backend.
Canceling your account within the 14 days trial period
During the 14 days trial, you can cancel the account directly from your account, if you decide that our product is not suitable for your business. This can be done from the Admin > Subscription section of your account, where you will find the Cancel account button, as shown here: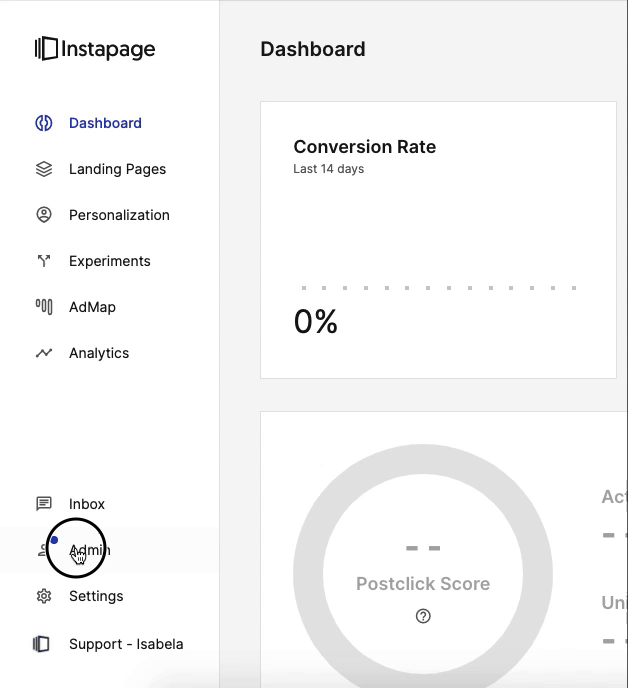 Important note: Once the account is upgraded to a paid plan, the cancellation can only be processed after the request for cancellation is sent by the owner of the account at help@instapage.com, or if it is requested during chat hours.