NOTE: This feature is only available for some of our subscriptions. If that is the case, you will see an upgrade prompt when attempting to access it. More information about our currently available subscriptions can be found here: https://instapage.com/plans 
We introduced workspaces and team members to remove friction in the design creation and review processes. You can share tasks by mentioning a team member to a specific block of your landing page. You can invite clients to comment on your design live, and minimize the time spent in submitting your work and analyzing the reply.
To access the collaboration tool, click on the name of the landing page and then click on Comment.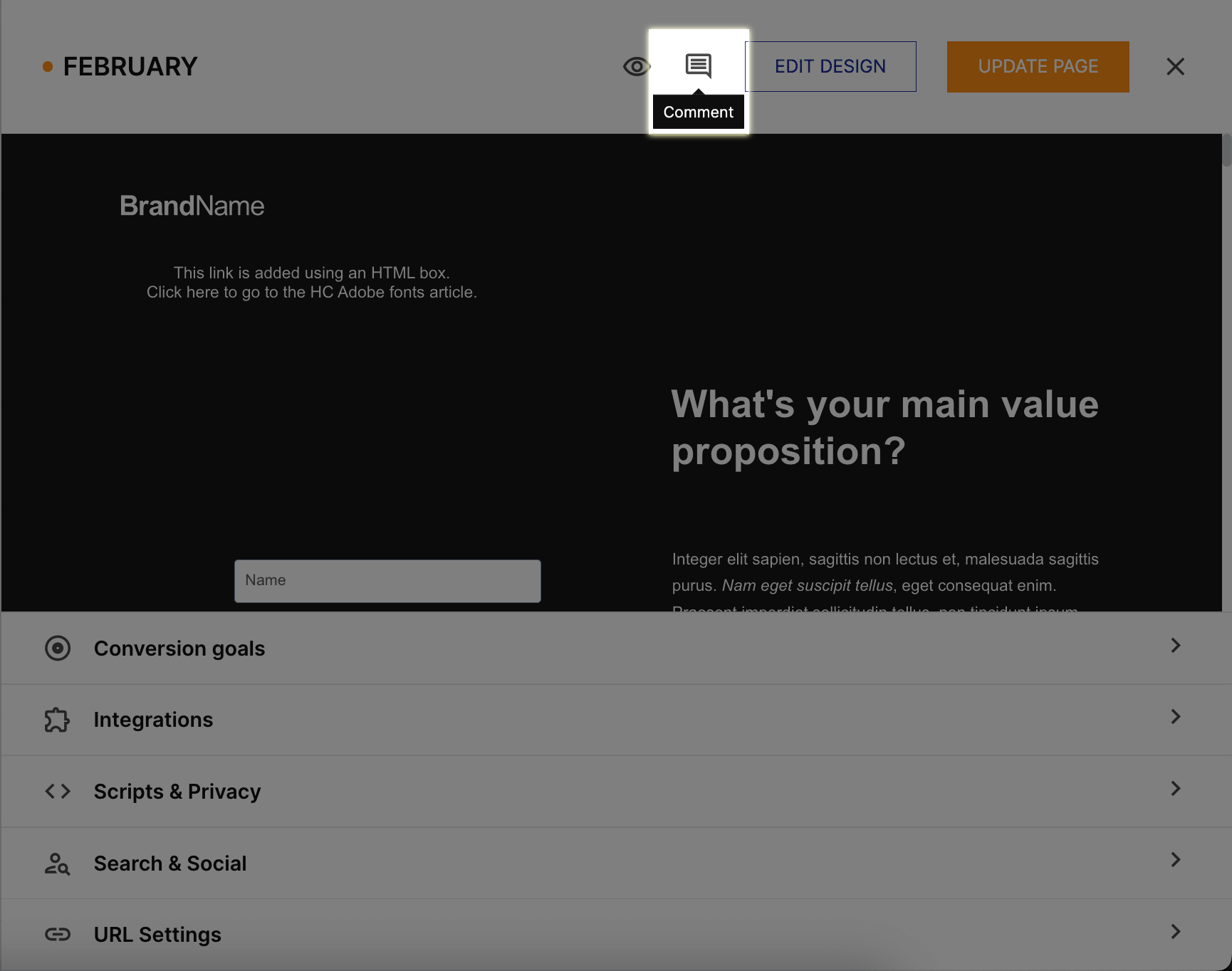 This will open a new tab. You can share the current variation of your page with an auto-generated link or via email. Next to the Share button, you will see all users viewing the same variation of your page.
All the people invited as team members to your workspace can comment on the page. Anyone can click anywhere on the page to target observations precisely.
If you do not have any team members at all across any of your workspaces, then you will see this popup when you try to add a comment: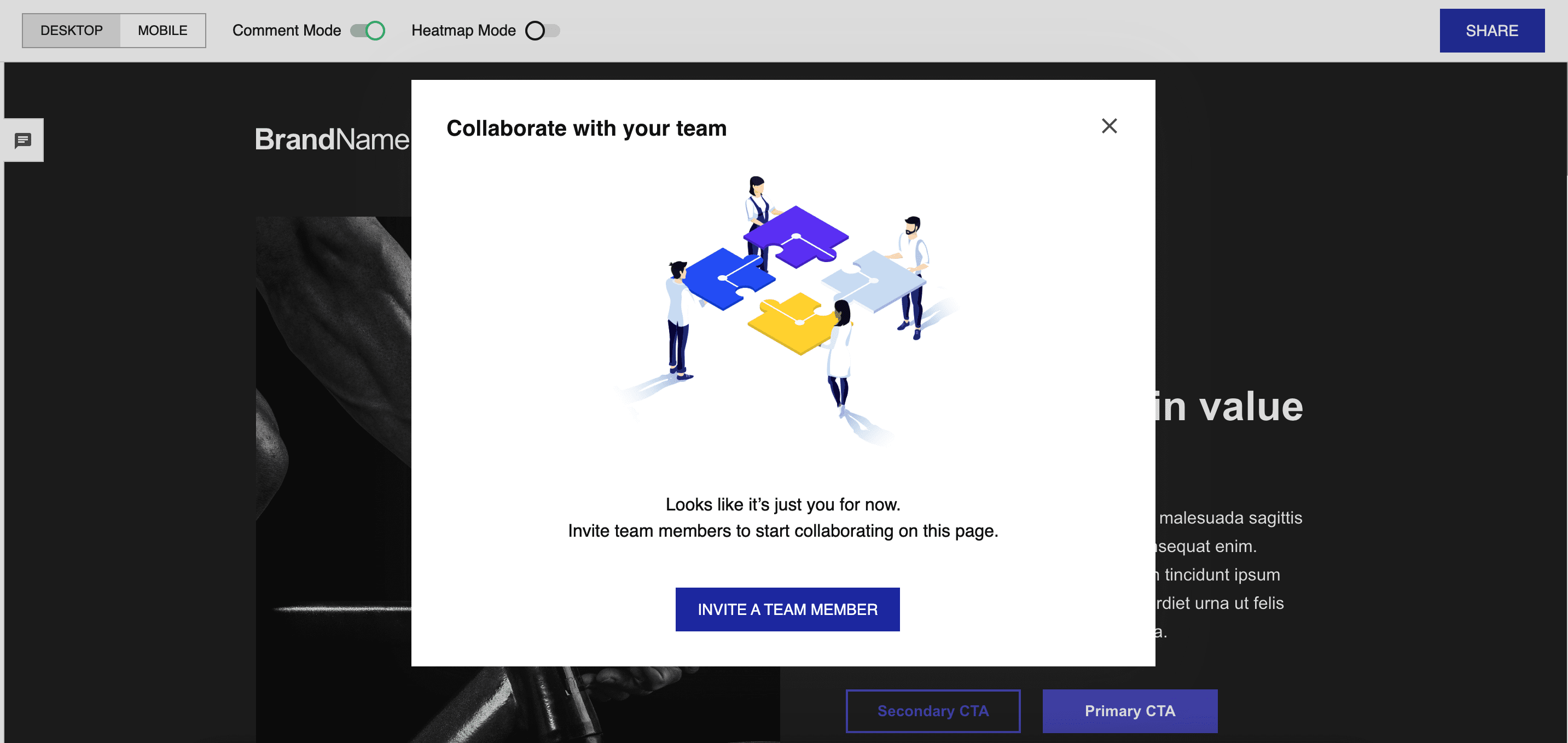 If you click on Invite a team member, then another pop-up will open that will allow you to add the email addresses of the people that you want to collaborate with and select their permission level. They will receive invitations to join your workspace via email. 
The number that you see in the corner is the total amount of team members that your subscription allows across all the workspaces in your account: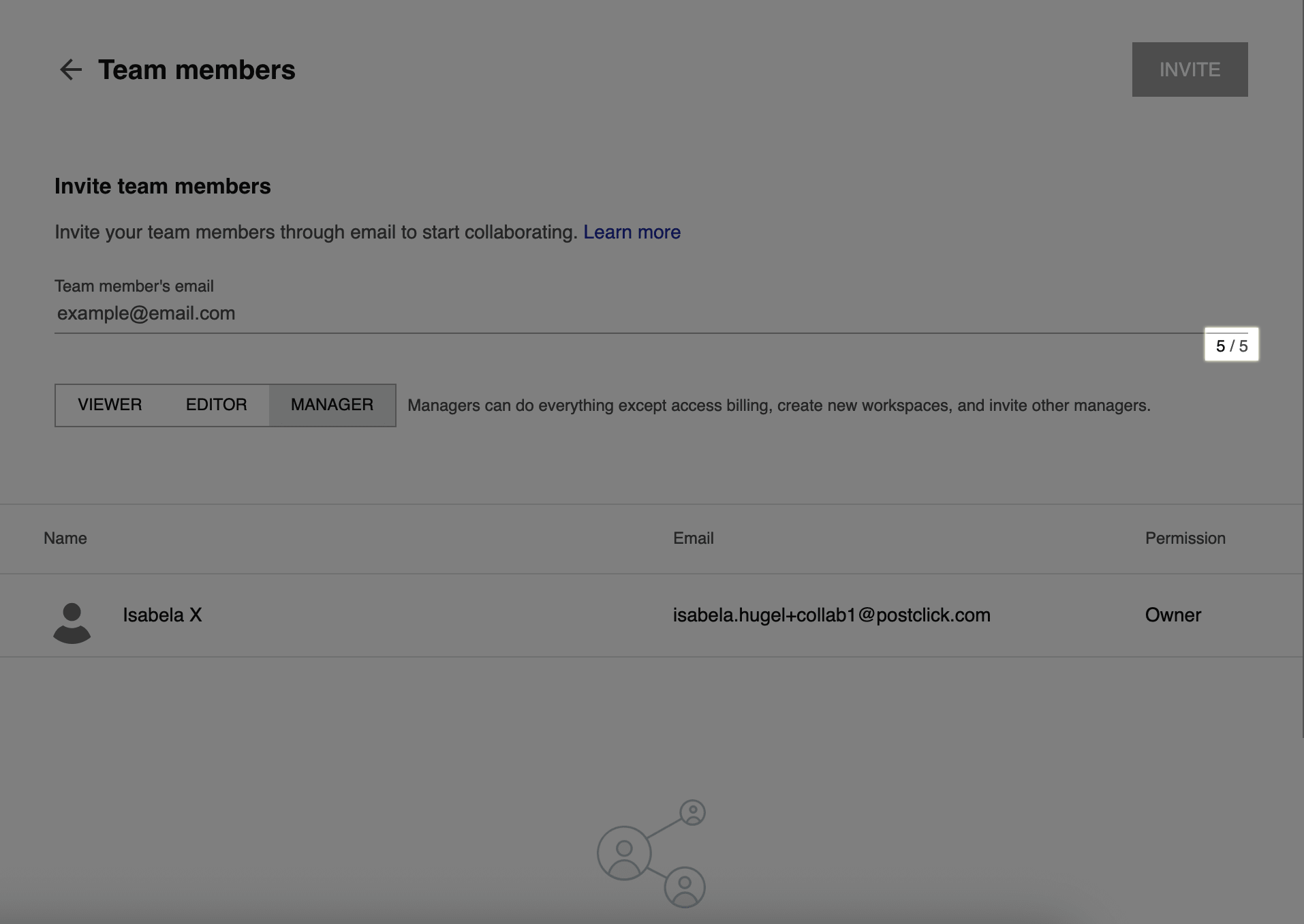 After choosing where to create a hotspot, a popup will appear. In it you can add a comment or mention someone. You can toggle the visibility of the conversation so everyone invited or only your team can see it. After posting your first comment, it will transform into a hotspot where you can continue your conversation.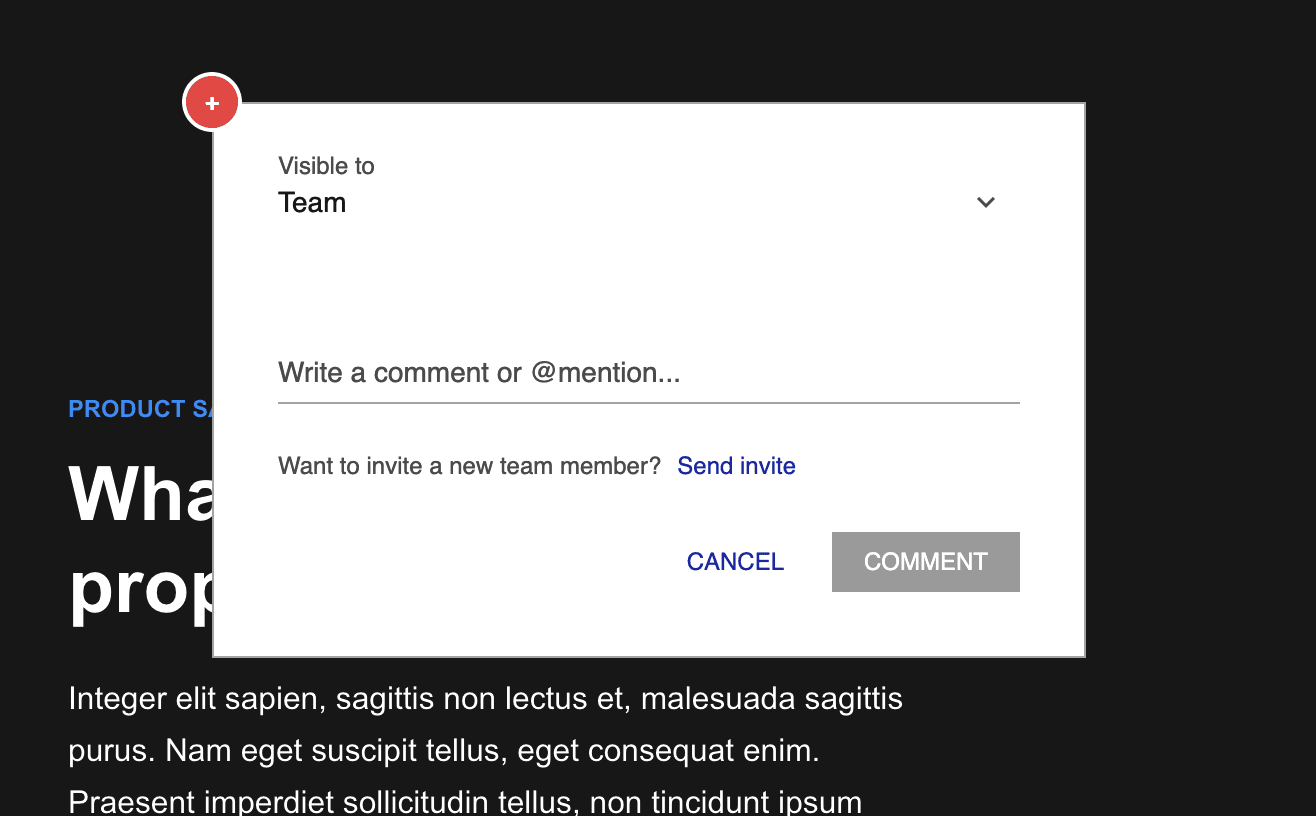 You can mention someone in a comment by typing "@" and their name. The mentioned user will receive an email with a preview of the comment and a reply button.
You can also invite someone to comment on your page by using an "@" mention and their email address (@example@email.com).
After you reached a decision in a comment hotspot, you can mark it as resolved. This will only change the hotspot (with a faded check mark). If you want to remove a conversation, you will have to delete each comment.
You can still preview your page normally by toggling Comment Mode off.
Different team member access types will affect permissions in comment mode as well:
Team members with View access can view the page, share it via shareable link, email, or @mention, create or comment on any existing conversation, @mention all the users that have introduced themselves, resolving or reopening any hotspot;

Team members with Edit access can, in addition, edit the page in the builder;

Team members with Manage access can change the page's password, delete comments and conversations, and toggle conversations: being visible for your team or being visible to everyone.
If you have team members added, in our to add others or guests, you can click on the Share button from the right corner. Guests have the same access level as team members with View permission. The fact that Guests don't need to have an active account on Instapage to view and comment on your page makes it an ideal way to share your work with customers.
For more details on what each permission level allows, check out the following article: https://d.pr/Xil69i. 
Here you can also set up a password for this page so that the people trying to access it will need to type in the password first.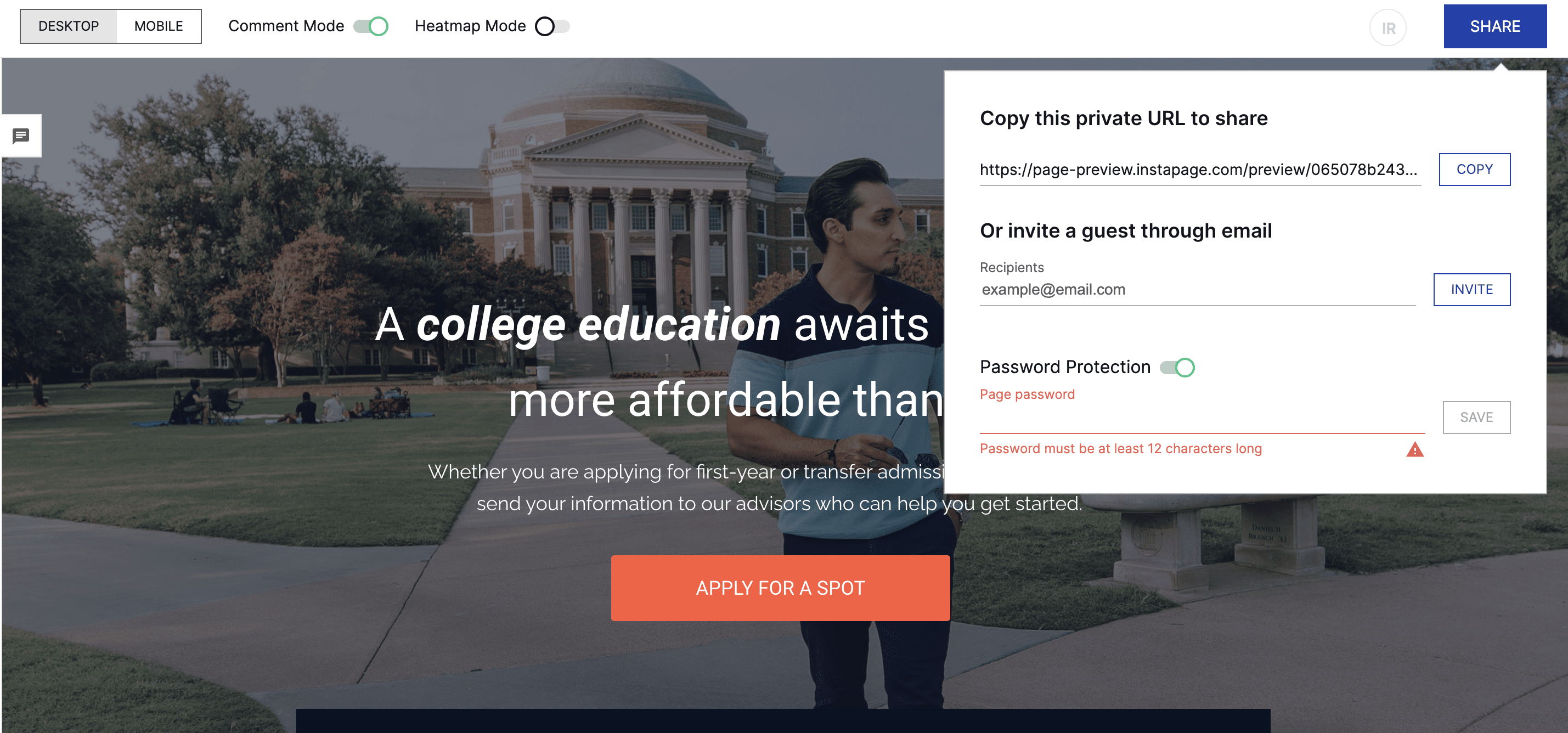 How do I view all the new comments left by others?
You can click on Notifications in the main dashboard right after logging in: