Marketo's powerful marketing automation software helps marketers master the art & science of digital marketing to engage customers and prospects.
Follow the instructions below to set up the integration.
On your landing page, click Settings and then Integrations;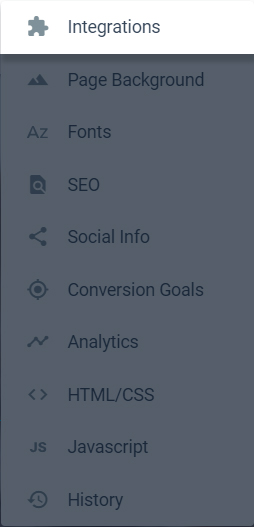 Choose Marketo from the top menu;
Enter your Marketo credentials to sign in;
Here's how to get that information from your Marketo account. 
Client ID and Client Secret
Click on Launchpoint under the Integration header in the left-hand navigation bar;
Click the View Details link in the row associated with the Installed Service to be connected;
Copy the Client ID and Client Secret from the modal window that opens upon clicking the View Details link.
Identity URL
Click on the Web Services link under the Integration header in the left-hand navigation bar;
Copy the URL shown adjacent to the 'Identity' entry under the REST API heading in the main window.
This step is done once per sub-account (or once per account for Core and Optimizer subscribers). After you've signed in, you will only select the account from a list. On the same page, you can add a new Marketo account and disconnect the Marketo integration for the page. After you select the account, click Continue;
Now select which list you would like to use and click Continue;
Now just map all your Instapage fields to match the ones in Marketo;
That's it. If you followed the steps correctly, your form submissions will be sent to Marketo automatically.
Note: Make sure to test the integration with different email addresses because if you submit the form multiple times with the same email address the integration will flag the email as a spam.