Image libraries are separate for each workspace. If you add an image to one page, it will still be available for other pages from the same workspace but not for your other workspaces.
The Image Manager is located in your page builder. To access it click on Image.

You can use one of the free images that we selected for you.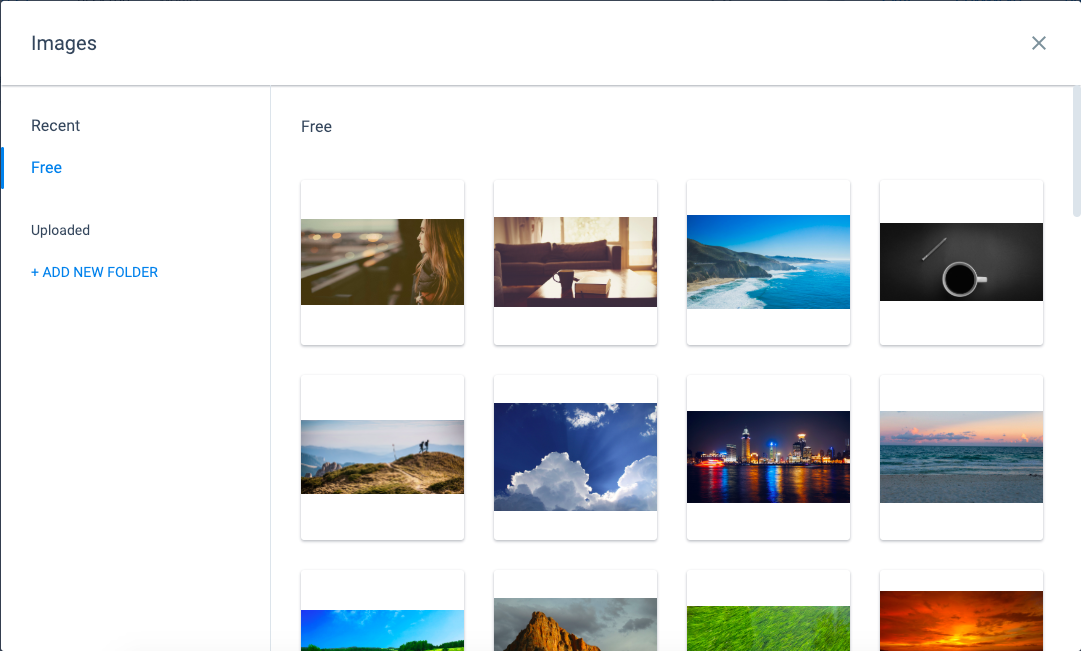 Or you can upload one directly from your PC or from a URL. The supported file types are PNG, JPEG, GIF, and SVG. Please do not upload images larger than 4000 x 4000 px as they can block the image manager. Our recommendation for sizing is to upload the images at the exact size you intend to use on the page. You can also see more tips and good practices for images in this guide.
NOTE: If your image manager gets blocked or is endlessly loading, it means that an image that was too large was uploaded in the past. In order to solve this, our support team will need to find and delete that image from the backend. You can reach out on live chat or at help@instapage.com for assistance with this.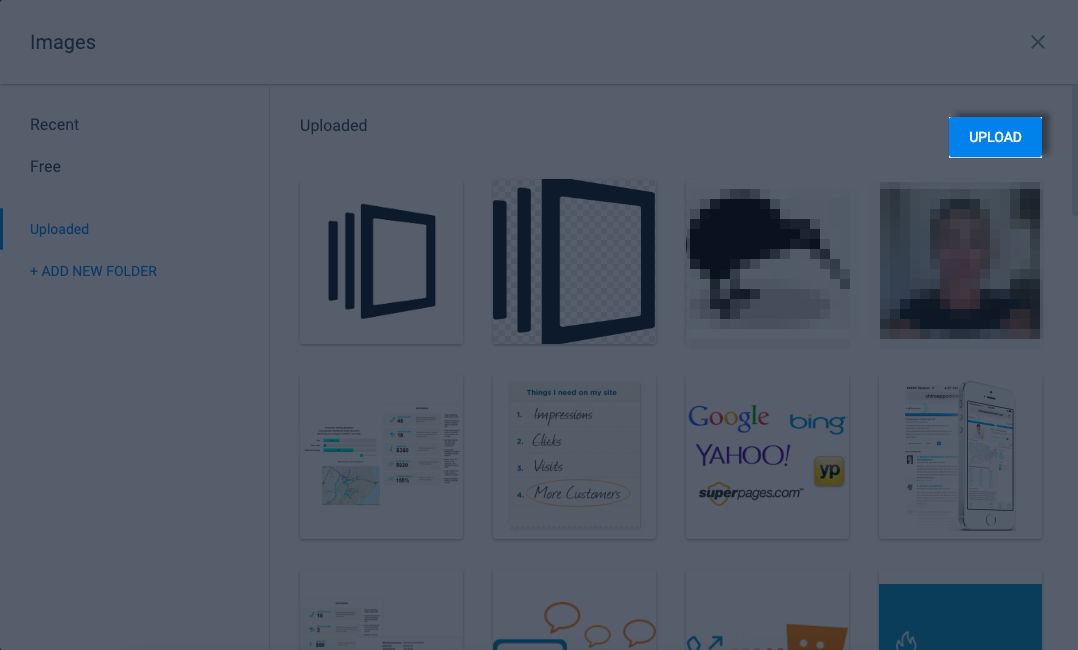 NOTE regarding SVGs: Sometimes the image manager will say that an SVG file is an unsupported file type, even though that is not the case. That can happen when the file is missing an XML line from its body of text. To remedy that, you can use one of three methods:
Run the image through this service and upload the resulting version: https://www.svgminify.com/
Open the file in Adobe Illustrator, then save it as a new SVG
Open the file using a text editor and add this at the first line: <?xml version="1.0" encoding="UTF-8"?>
Easily manage all your images by sorting them into folders.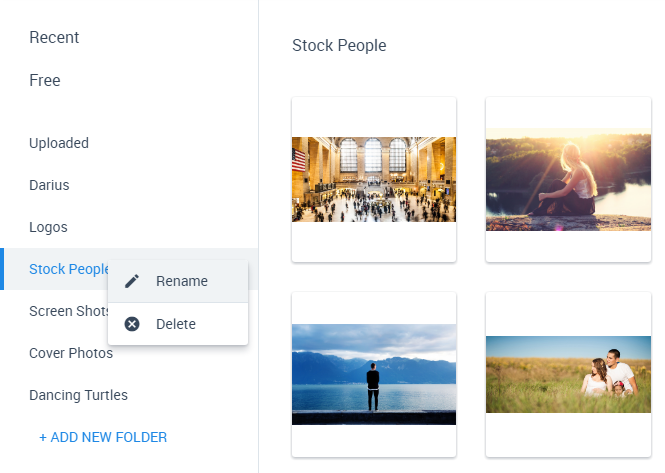 Edit, Duplicate or Delete images from within folders.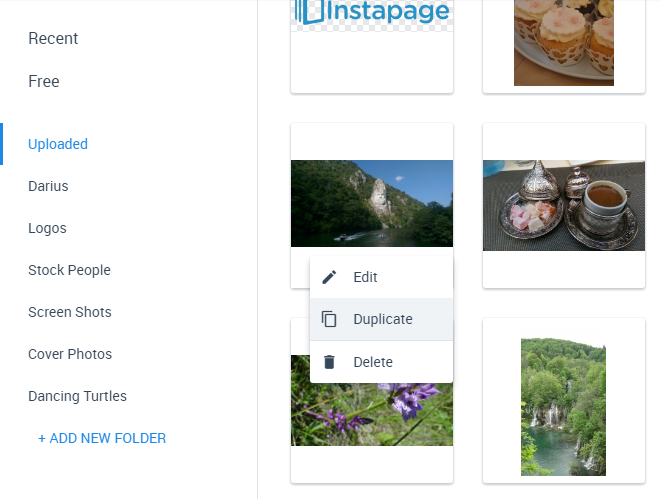 In edit mode, you can change an image's name and alt tag. Aside from the alt tag describing what the image is about and the function of the image, the alt tag is also used by screen readers. Screen readers are browsers used by blind and visually impaired people.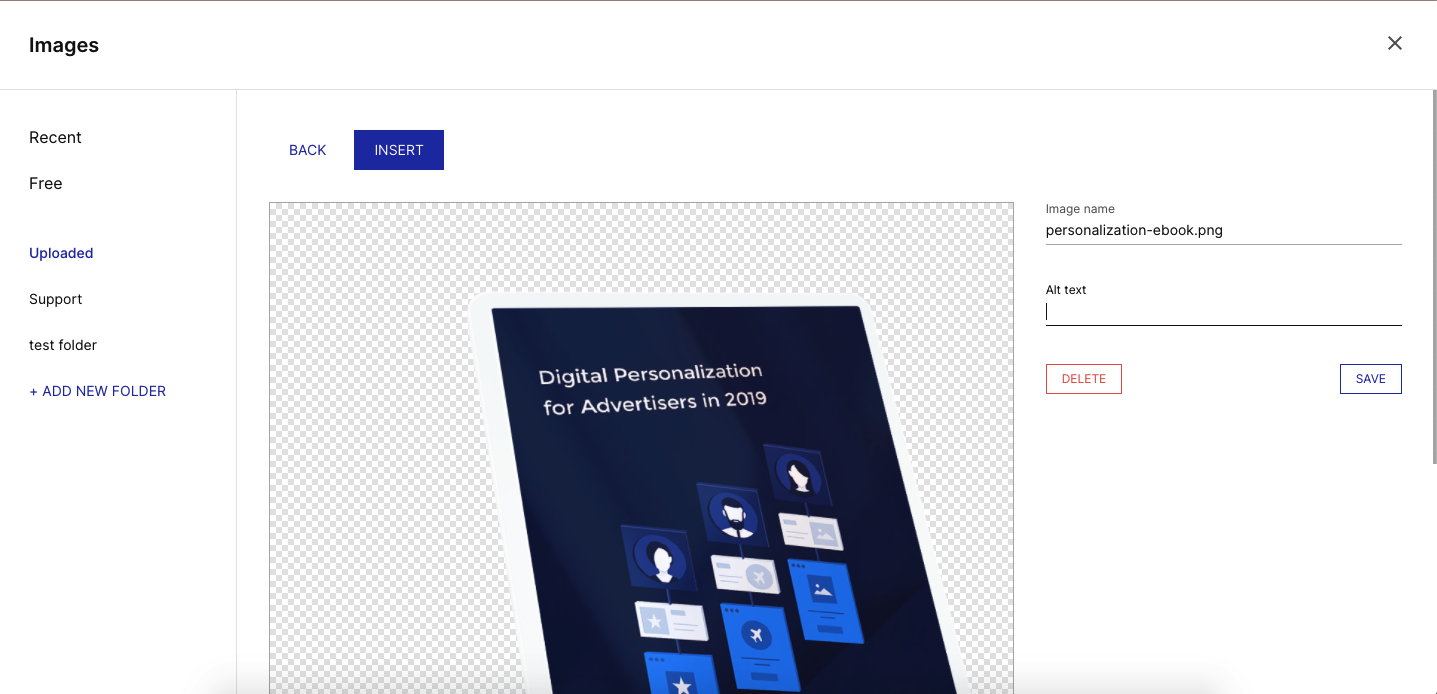 To add an image to your page simply click Insert when hovering your mouse cursor over it.