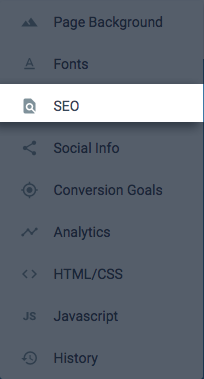 Within the settings menu, you can find the SEO settings button. This feature will allow you to customize the Landing Page Title, Keywords, Description, and Favicon. Doing so you will increase your landing page visibility on every search engine. 
The SEO settings are shown below:

The Page Title is self-explanatory. This is the title for your landing page, which will appear in search engine results and in the title of the tab in which your page is opened.
Keywords are intended to act as shortcuts that sum up an entire page. They help search engines match a page to an appropriate search query.
The Canonical URL is the search engine friendly URL that you want the search engines to treat as authoritative. In other words, a canonical URL is the URL that you want visitors to see.
The Meta Description is an ~160 character long text, that describes and summarizes the contents of your landing page to search engines. In search engine results, the meta description appears under the page title, giving your potential visitors more information about your content.
If you're not familiar with what a Favicon is, here is a description: Favicons are the pictures you see beside some URLs in your browser's address bar. You can use .jpg, .png, and .ico images. You can also use .gif files, but some browsers might only display the first frame of the GIF, without animation.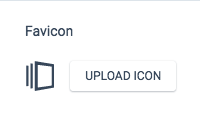 You can also hide your page from search engines just by enabling the "Hide this page from search engines" setting in the SEO menu as seen in the above screenshot.
Note By publishing your landing page and editing your page SEO settings, Google or Bing search will not automatically index your page.