The first step in editing any piece of content is by clicking on the blue "Edit" button shown below: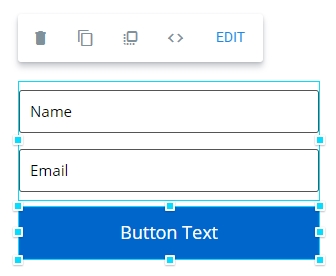 You will then be presented with this menu, in which you can further edit the form's style and functionality:

However new and old form fields are edited within the form selector itself.
Editing Form Fields: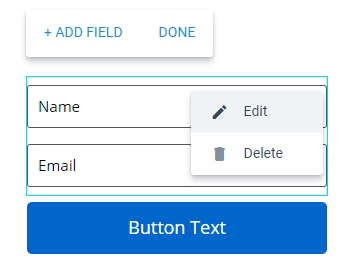 There are 3 primary form field editing options:
Edit the properties of an existing form field.
Delete the form field.
Rearrange the position of a form by clicking and dragging.
Each different type of form field has its own properties.
Label: Description of the information you'd like to collect from your visitors.
Required: A visitor will not be able to submit the form if they leave a required field empty
Drop-down, checkbox, radio button selections: These type of form fields typically require a few pre-defined options for the visitor to select from.
Adding New Form Fields: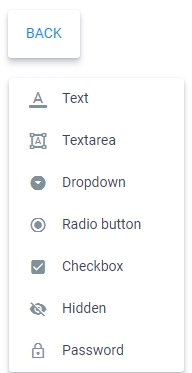 You can add new form fields at any time by clicking on the Add New button. Doing so will present you with 8 field type options.
Text Field
Checkbox
Radio Button
Drop Down
Text Area
Hidden
Password
Additional Form Options:

Button Text: This is where you'll choose the text that your form button displays.
Drop Shadow: This adds a subtle drop shadow to the bottom of your form button to give it more depth.
Corner Radius: This allows you to round out the corners of your form button.
Border: Allows you to add an outline on your button.
3D effect: Gives the button an added depth look and makes it stand out more.
Button Colors: Select a color for your form button, for when you hover over the button and for the button text.
Glossy: This adds a subtle gradient to your form button to give it a 3D look.
Flat: This adds a flat look to your form button to give it a modern/simple look.
Text Shadow: Check the text shadow box to add a discreet shadow to your text.
Button Font: You can control the font used and its size