*NOTE* This feature is available for our Optimizer, Team & Agency, and Enterprise subscribers. For more details, visit our upgrade page.
Connecting Google AdWords to your landing page is extremely easy. Once connected, you will be able to see in your Instapage analytics the cost per lead and cost per visitor metrics.
How it's done?
1. To get started, open the landing page builder and go to Settings - Analytics;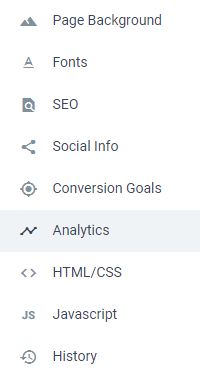 2. Select Google AdWords from the Analytics menu;
3. Now click on the Continue to Google AdWords button and log in with your account;
4. And you're all set, your Google AdWords account is now connected to your landing page.
Disconnecting Google Adwords from your landing page.
1. From your Instapage dashboard, click on the gear icon on top right and select Integrations;
2. Go to AdWords and click on the Disconnect button.
You can also turn off the AdWords integration, without disconnecting it. Go to the Analytics menu in the page builder and click on the toggle button next to your AdWords ID.